NEWS
Brad & Angelina: Who Cheated with Whom?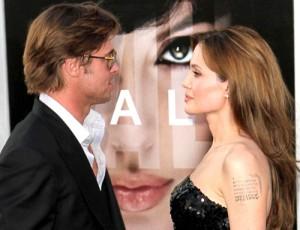 Once a cheater, always a cheater, right? Maybe not. Brangelina was a couple born amidst rumors of infidelity surrounding Brad Pitt's supposed affair with Angelina Jolie while still married to Jennifer Aniston. Ever since then, cheating allegations have followed the powerhouse pair, which isn't surprising. What is surprising is the way they confront these rumors with a grace one rarely sees in Hollywood these days.
Article continues below advertisement
So how have Brad and Angie dealt with the constant rumors and accusations? In the new issue of OK! we investigate some of the most interesting allegations and how the couple managed to come out unscathed.
OK! GALLERY: BRAD PITT CAN'T HELP HIS HANDSOMENESS
DID ANGELINA STRAY WITH...
Her new co-star Johnny Depp?
While Angelina filmed The Tourist with Johnny Depp in Venice this past spring, a May tabloid report claimed, "Angelina is hot for Johnny and decided she wants him!" But as Brad and the kids stuck close to Angie in Venice, the rumors simply became "a running joke on set," a longtime pal of the couple tells OK!.
OK! NEWS: ANGELINA JOLIE CHOOSES LEAD ACTRESS FOR BOSNIAN LOVE STORY
Old flame Jenny Shimizu?
When a purported Jolie-Pitt bodyguard named "Bill" told a weekly magazine in April that Angelina was still hooking up with her model-actress ex-girlfriend Jenny Shimizu, the couple privately shrugged off the rumors. "Brad knew some of the dates that were mentioned were nights that Angie was home with him and the kids," explains the pal.
Article continues below advertisement
OK! GALLERY: BRADD PITT & ROBIN WRIGHT PENN ROLL THROUGH 'MONEYBALL' SCENES
DID BRAD HOOK UP WITH...
His ex-wife, Jennifer Aniston?
Bill the bodyguard also claimed that in December long-lost exes Brad and Jen were reunited after being spotted "hugging and kissing" in Malibu. "Angie doesn't believe for a minute Brad is going to go back to Jen," the Jolie-Pitt pal tells OK!. "She just rolls her eyes, shrugs and makes the kids breakfast."
OK! VIDEO: ANGIE & JOHNNY KISS KISS IN 'THE TOURIST'
The French flight attendant?
While Angelina flew off on a charity mission to Pakistan in September, Brad was reportedly engaging his own international relations. A French flight attendant named Racine boasted she'd bedded "Hollywood's leading golden boy." But according to the Brangelina insider: "Brad claims he's never met the woman. Angie believes him. End of story."