NEWS
Brad Pitt, Angelina Jolie & Jennifer Aniston: Fights, Love & Lies!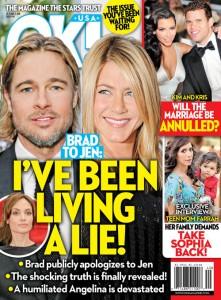 Brad Pitt doesn't give many interviews — and now maybe we know why. After discussing his personal life with Parade magazine, the Moneyball star managed the rare feat of enraging and humiliating both his ex-wife, Jennifer Aniston, and his current partner, Angelina Jolie. This week's issue of OK! has all the details on both women's reactions and why the actor would still be trying to drag Jen down!
OK! GALLERY: JENNIFER ANISTON & JUSTIN THEROUX ENJOY A NIGHT ON THE TOWN IN NYC
Article continues below advertisement
This gushing mea culpa apparently infuriated the mother of Brad's children, Angelina.
"In her mind, he had no business groveling and apologizing to Jen," a source tells OK!.
"Angie's very cut and dry," Jen's friend tells OK!. "When she moves on, she moves on. She doesn't speak to ex-husbands Billy Bob Thorton or Jonny Lee Miller. And she expects Brad to do the same with Jen."
Article continues below advertisement
What really gets under Angelina's flawless skin is that Brad has remained friends with Jen and still keeps in touch.
"If Angie has one vulnerable spot, it would have to do with their staying in contact," Jen's friend tells OK!.
"Angelina can be as vicious as Brad, and no doubt she'd have a fit when she'd hear him talking to Jen on the phone.
It remains to be seen how Brad's loose lips have damaged his relationship with Angelina; as OK! has reported, many close to the pair expect a wedding by year's end. But now, a source points out, "Brad and Angie are not in a good place."
By contrast, yoga devotee Jen is in something like nirvana. "She's moved on," her friend tells OK!. "I'm sure it kills Brad to know that Jen is a thousand times happier with Justin than she ever was with him."
FOR MORE ON HOW BRAD'S WORDS HAVE AFFECTED HIS RELATIONSHIP WITH ANGIE, PICK UP THIS WEEK'S ISSUE OF OK! — ON SALE EVERYWHERE NOW!