NEWS
Brad Pitt & Angelina Jolie: The Secret Wedding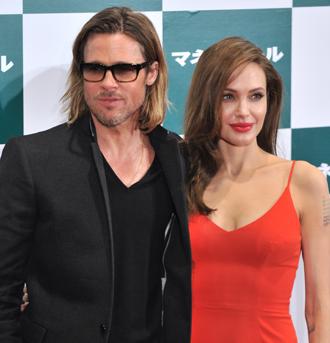 Article continues below advertisement
Yes, it finally happened, the wedding all stargazers have been waiting for — in secret, beyond paparazzi, pals and even Brad's and Angie's parents.
Except that it didn't count. Not legally, anyway. Tired of pressuring their parents to tie the knot, the Brangie brood took matters into their own hands and threw a surprise mock wedding in early September, at Whornes Place in Richmond-on-Thames, England, the $10 million house the family rented while Brad filmed World War Z.
"Shiloh came up with the idea," a source close to the Jolie-Pitts tells OK!. "She and Zahara organized the whole thing. They even made bridesmaid dresses by attaching real flowers to their white nightgowns.
OK! NEWS: BRAD PITT PLANS TO QUIT ACTING IN "THREE YEARS"
"Angie knew something was up, because things got quiet and the kids told her she couldn't come outside," the insider adds. "When Brad came home from work, they had the whole wedding planned out, and sent a nanny inside to instruct their parents to dress in white. Angie cried when she saw the aisle of leaves they'd made."
Standing at a makeshift altar (actually a school desk), Maddox played priest and — having Googled "wedding vows" — performed a ceremony, delivering part of his spiel in French. Aside from the traditional "for better or for worse," and "till death do us part," the 10-year-old added creative touches of his own.
FOR MORE ON BRANGIE'S ADORABLE MOCK WEDDING, PICK UP THIS WEEK'S ISSUE OF OK! — ON SALE EVERYWHERE NOW!