NEWS
Brad Pitt Plans to Quit Acting in "Three Years"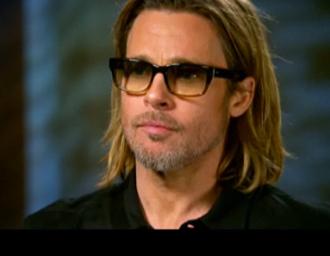 Article continues below advertisement
"Three Years," he told Australia's60 Minutes.
What will happen then?
"Hell if I know. Hell if I know," he said. "I am really enjoying the producing side and development of stories and putting those pieces together. And getting stories to the plate that might have had a tougher time otherwise, so... You know, I have gotten away with a few things in writing and I have been pissed off about a few things. How's that?"
But it seems the spotlight has taken its toll on Brad.
OK! GALLERY: BRAD PITT TAKES OFF FOR WORK IN A HELICOPTER
The Moneyball star doesn't like that his children have to live inside of a "gate" and have a different upbringing than what he had.
"Sure I worry. It's the only thing I get hot about, I'm ready to... fight about," Brad said of his kids also being in the spotlight. "But on the other hand you know, it's a trade-off, like anything. There's a great trade-off. And we, these guys, I'm so happy for them, because they get to see the world. And their lives are so enriched by it. The privacy issues are something we're always battling. But you know, it is true that a couple of ours do not like it. You know, they don't like it and I'm sure that will color them in some interesting way."
Brad, however, thinks happiness is "overrated" and instead tries to be "satisfied" and "at peace."
Watch Brad's interview over at sixtyminutes.com!