NEWS
Brad Pitt "Ecstatic" Over Oscar Nomination & "So Happy" for Jonah Hill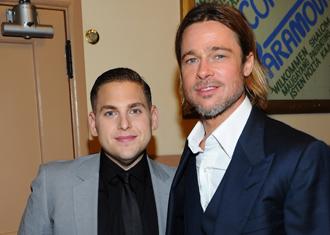 The 2012 Oscar nominees were announced today and in order to hear Brad Pitt's reaction to his Best Actor in a Leading Role nomination, the Today show decided to call him up this morning! The Moneyball star and partner to Angelina Jolie shared his excitement over the phone for both his own nomination and his friends.
OK! GALLERY: BRAD PITT & ANGELINA JOLIE STEAL SHOW AT PRODUCERS GUILD AWARDS
"Thank you very much," Brad told Today when he was congratulated. "We're ecstatic over here."
Article continues below advertisement
"It means so much considering this film was just dead on the rocks two years ago. It took a lot of people, a lot of artisans and craftsmen to get it to the screen. It's a great honor and a real tribute to Billy Bean and the Oakland A's organization," Brad explained. "We're happy. I'm so happy for Jonah Hill, I can't tell you."
Jonah was also nominated for Moneyball for Best Actor in a Supporting Role.
"At the heart of it is the story of value. What are we worth? What our personal worth to each other? I'm so happy that's resonated. I have to tell you, I'm doubly happy The Tree of Life made it in there. We thought we were all but forgotten. Just excited for nominated director Terry Malick.
OK! GALLERY: GOLDEN GLOBE AWARDS 2012 PHOTOS — RED CARPET COUPLES!
So has Brad heard from his fellow Best Actor nominee and best friend George Clooney yet?
Article continues below advertisement
"Not yet. "I'm sure we'll be exchanging good words later."
And Brad says it won't be weird sitting in the theater waiting to hear if one of their names is called.
"Absolutely not. It's more fun to have friend there," he explained. "No one does it better than George. Give him all the trophies. When you run out, make new ones and give him those, too."
Visit msnbc.com for breaking news, world news, and news about the economy