NEWS
Brad Pitt's Brother Doug Talks Newfound Fame & Angelina Jolie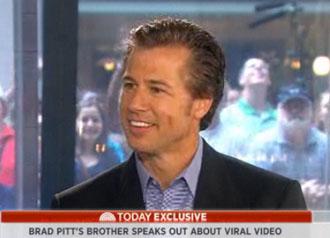 Doug Pitt may be "the second most-famous Pitt," but he's ready to step out of his brother Brad Pitt's shadow and show off his quirky sense of humor. In a new viral video for Virgin Mobile Australia, Doug debuts a different side of Brad's family in an ad spoofing his normal life.
Although Doug admits his newfound fame is "surreal," he's still content with his everyday life and admits he's not interested in switching lives with Brad and his A-list wife-to-be, Angelina Jolie.
Article continues below advertisement
OK! GALLERY: BRAD PITT SHINES AT PHOTO CALL FOR KILLING THEM SOFTLY DURING CANNES FILM FESTIVAL
"I've been able to watch what he goes through and, you know, there is a price that he pays, but again, to his admission, he welcomed it, he himself walked into it, and he's done extremely well," Doug told Matt Lauer of Brad this morning on the Today show. "I'm really proud of him.
"I think he does a pretty good job of being normal, for what normal is to him and Angie," he added. "They do the best they can. They do a great job kind of shutting out the noise, to some degree."
As for what Brad thinks about his brother's launch into the Hollywood spotlight, Doug revealed that Brad was all for it and excited for him.
"He's been in this game for 25 years and I've never stepped in, and so when this came along the timing was fun, and I thought what Virgin Mobile Australia came up with was creative, so I did call him and I said, 'Hey what do you think?' He was like, 'Do it! Sounds great.'"
Article continues below advertisement
"He did see the finished project," Doug said. "I was out on my bike and I stopped, got a text and it just said 'Hey, just saw it. Hilarious.' So, I was pleased."
OK! NEWS: JANE PITT, BRAD PITT'S MOM, SLAMS GAY MARRIAGE IN LOCAL NEWSPAPER
And although Doug does get stopped on the street every once in awhile for looking like his big brother, he admitted a lot more people think he looks like another famous actor — Val Kilmer!
"Just when I turned in my 40s the Brad Pitt thing came up a little more," Doug said.
But being asked about Brad comes with the territory when you're a Pitt, something Doug is very familiar with.
"Most of it is innocuous, and it's nice. Like, 'Is Brad coming to town?' 'We loved his movie, what's he doing?' 'What's Angelina like?'" Doug explained. "Honestly, my eyes glaze over. It's been these kind of questions for a long, long time. So, obviously I understand the interest and I appreciate it. "