NEWS
'Breaking Dawn' Filmmakers Release Statement Begging Fans to Stop Leaking Photos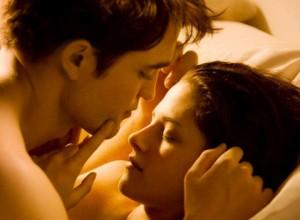 Good things come to those who wait, Twi-hards — but we know it's hard! Filmmakers of The Twilight Saga: Breaking Dawn are begging fans to stop leaking photos of the film on the Web!
OK! NEWS: STEPHENIE MEYER ANSWERS TWILIGHT FANS BURNING BREAKING DAWN QUESTIONS!
Sexy photos of Kristen Stewart (Bella) and Robert Pattinson (Edward) filming their honeymoon scene and Bella as a vampire hit the Web, but most have been taken down quickly, MTV News reports.
Article continues below advertisement
And now, the studio is not happy and has issued a statement scolding fans.
"As some of you may know, pictures and screen grabs of 'The Twilight Saga: Breaking Dawn' as a work in progress have leaked on the Internet. We are extremely proud of this film and also extremely heartbroken to see it out there at this stage,"a Facebook message from Summit Entertainment reads. "The film and these images are not yet ready or in their proper context. They were illegally obtained and their early dissemination is deeply upsetting to the actors, the filmmakers and Summit who are working so hard to bring these movies to fruition to you in November 2011 and November 2012."
And it's not like Summit Entertainment hasn't been good to us already by releasing the photo of Bella holding feathers in bed last November and Bella and Edward in bed together!
So instead of trying to view the leaked photos, enjoy the legitimate ones below!