NEWS
'Breaking Dawn' Shirtless Scenes Made Robert Pattinson Look Like an "Inflatable Frankfurter"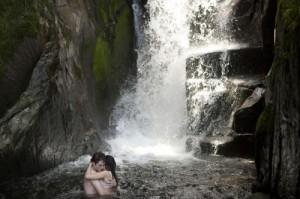 Article continues below advertisement
"At least he's honest!" Kristen Stewart added. "That's cool."
Aww, she's standing up for him!
Rob didn't stop there, though, with his description of just how badly he wanted to avoid being shirtless in the films.
OK! NEWS: COMIC-CON DEBUTS SEXY FOOTAGE FROM BREAKING DAWN HONEYMOON
"I've managed to have my shirt on the whole series," he said. "In the book, Edward is shirtless almost every three pages. I kept thinking, 'How can I wear a T-shirt in the sea? Or a onesie?' "
But Rob is mainly concerned with fans being disappointed... by his body. Comic-Con aired some footage from the honeymoon featuring Rob shirtless and he began to panic at the thought of it!
"I don't want to get anyone's hopes up," he said. "I look like an inflatable frankfurter in some of those scenes."
Watch Rob answer the question at Comic-Con over at MTV.com!