NEWS
'Breaking Dawn' Should Be Two Movies, Says Kristen Stewart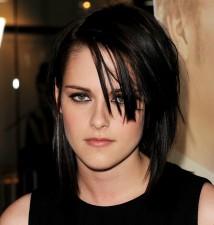 Kristen Stewart supports plans to film the fourth book in the Twilight saga, Breaking Dawn, as two movies, saying the length and detail of the series finale "absolutely warrants" the two-movie treatment.
Meanwhile, she knows little more about filming the end of the vampire-human love story. "I have been told to be ready for November," Kristen Stewart tells E! Online. "I mean, it looks like a 'yes,' but it's still not concrete."
Article continues below advertisement
OK! NEWS: TAYLOR LAUTNER IS KRISTEN STEWART'S OSCAR DATE
While debate rages about Breaking Dawn being filmed as one or two movies, Kristen firmly believes it deserves two separate installments.
"It would be hard to cram all of it into one movie," she said yesterday, while promoting her new drama, The Yellow Handkerchief.
OK! NEWS: SEXY NEW STILLS FROM TWILIGHT SAGA: ECLIPSE
The hype surrounding the series finale is a far cry from the early days when Kristen and Robert Pattinson signed on for Twilight. "We didn't even know we were going to make a second one," she said.
"We were just like, 'It's really cool. It's different and we've never seen a love story like this.' … I thought it would just be another cool Catherine Hardwicke movie."
OK! NEWS: CONFUSION CONTINUES OVER FIFTH TWILIGHT MOVIE
Fresh from playing Joan Jett in The Runaways, will Kristen follow in Rob's footsteps by recording a song for a Twilight soundtrack?
"I love being an actor," she explained. "I would totally play another person in a band, but Kristen is not going to be in a band."