NEWS
Sexy New Stills from 'Twilight Saga: Eclipse'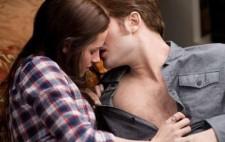 Bestill your beating hearts, Twi-hards! Super sexy new still from Twilight Saga: Eclipse are now making their rounds on the Web. Perhaps a late Valentine's Day present to show love to all the the Edward Cullen fans out there? Kristen Stewart and Robert Pattinson take their passion from the meadow to the bedroom and get a whole lot closer than we've seen before!
Article continues below advertisement
In a new interview with Details Magazine, Rob got a little personal talking about a steamy photo shoot he did for the interview — but these photos the Huffington Post posted are equally as exciting!
OK! NEWS: CONFUSION CONTINUES OVER FIFTH TWILIGHT MOVIE
While we get worked up about Breaking Dawn being broken into two films or not, let's take a moment to remember we still have Eclipse to look forward to!