NEWS
Bret Michaels Hospitalized Again with "Warning Stroke"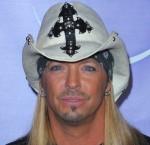 Poor Bret Michaels just can't seem to catch a break when it comes to his health — the Celebrity Apprentice finalist has been admitted to the hospital again with what is being called a warning stroke, or a transient ischemic attack.
Extra reports that Bret had been complaining of a severe numbness on the left side of his body, which tipped doctors off to the occurrence of the warning stroke.
OK! NEWS: BRET MICHAELS NOT OUT OF THE WOODS FOR SIX MONTHS, SAYS SISTER
Article continues below advertisement
A Doppler ultrasound on his legs and lower abdomen to look for blood clots, and an ultrasound bubble test of his heart revealed that he has a hole in his heart known as patent foramen ovale (PFO).
According to Extra, Bret's physician Dr. Zabramski says he believes this latest health problem is unrelated to the massive brain hemorrhage the rock star suffered last month.
"The good news is that it is operable and treatable and we think we may have diagnosed the problem that caused the transient ischemic attack or warning stroke, however, we feel it is highly unlikely this is connected to the brain hemorrhage he suffered just a few weeks earlier. Once again it is great that he quickly reacted to the severe numbness and got to the hospital immediately," Zabramski tells Extra.
It's unclear whether this latest setback will affect Bret's plans to attend the live Celebrity Apprentice finale on Sunday.
OK! NEWS: BRET MICHAELS RETURNING TO CELEBRITY APPRENTICE FOR LIVE FINALE
In a statement released by Bret's rep, Janna Elias, she said, "Bret wants everyone to know he cannot thank you enough for all of the well wishes, prayers, and good vibes you have sent his way. Even though these last few months have been tough on him and his family, especially this most recent setback, he is in good spirits, great medical hands and is positive and hopeful that everything is going to be OK. He is up, walking, talking, continuing his daily rehab and very happy to be alive but he has made it clear he is sick and tired of being in the hospital and is ready to rock again."