NEWS
Bret Michaels "Not Out of the Woods for Six Months", Says Sister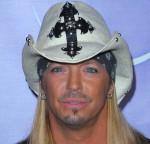 Bret Michaels' sister Michelle Sychak says her brother is "doing really well" two weeks after he was rushed to hospital with a brain hemorrhage, but the recovery process will be slow going.
The Poison singer's sis called into the syndicated morning radio talk show, the Todd N Tyler Radio Empire, Wednesday morning to share the latest news Bret's recovery.
Article continues below advertisement
"Good news! It was shocking because I really didn't see that happening," Michelle said via Radar Online. He's doing really well. I mean, he sounded great."
She described the facility caring for the reality star. "I could tell, you know I think that Barrows Institute is great, but when you think ... about what was around him, he was doing so much better than most of the people that are in there.
"Imagine, if you will, you're in a ward where you've survived this brain injury and you're feeling pretty good and you're yourself and you can walk and talk and you can do all those things.
"And then everyone around you, or most of the people around you, are either in a coma or maybe a vegetative state or they're just nowhere near the level, you know what I mean?
Article continues below advertisement
OK! NEWS: BRET MICHAELS SUFFERS A "MINOR SETBACK"
"And just, I think it was very difficult for him to see that every day, and he said it just was so depressing, and he really pushed to be transferred to you know someplace with I think people that were in the same level of mindset as he is...."
The Rock of Love star has now left the hospital and is currently at another rehab facility.
"And I think the next step is home, and I don't think that will be too long down the road. I think he'll do better in a little bit more upbeat, I guess is the word I would use...I talked to my Mom and Dad, and we're all planning our trip out."