NEWS
Bret Michaels Released From the Hospital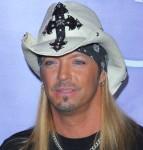 After quite a scary night with a "warning stroke," Bret Michaels has been released from the hospital.
Doctors have diagnosed him with a Transient Ischemic Attack, according to his website, and they said that it is treatable.
OK! NEWS: BRET MICHAELS HOSPITALIZED AGAIN WITH "WARNING STROKE"
On Bret's website, his physician Dr. Joseph Zabramski wrote: "I realize Bret wants to make a full recovery so that he can be active with his family, attempt to attend the finale of Celebrity Apprentice and especially get back on the road to continue making music. Without a doubt, he is very determined to get healthy and make a 100 percent recovery. Medically speaking, it is a fantastic attitude, both mentally and physically, for him to have. However, Bret's brain and body are not quite 100 percent yet, especially with the hole found in his heart." He continued by saying Bret will be receiving outpatient care.
Article continues below advertisement
OK! NEWS: BRET MICHAELS RETURNING TO CELEBRITY APPRENTICE FOR LIVE FINALE
Although he has said that he wants to appear on the finale of Celebrity Apprentice, that is still up for debate. A rep told E! News that Bret will indeed appear as planned on this weekend's live finale and his rep wrote on his site, "He is up, walking, talking, continuing his daily rehab and very happy to be alive but he has made it clear he is sick and tired of being in the hospital and is ready to rock again."