NEWS
Bret Michaels Sets Sights on Stopping Diabetes, Not Tish Cyrus Rumors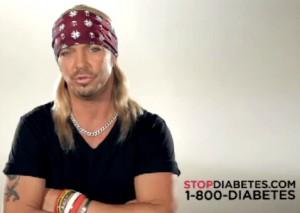 Bret Michaels has been making headlines recently for reportedly having an affair with Miley Cyrus' mom Tish Cyrus even though he has denied the reports. But Bret is also in the headlines for something good this month and that's for kicking off American Diabetes month.
OK! NEWS: BRET MICHAELS DENIES DENIES HAVING AN AFFAIR WITH MILEY CYRUS' MOM
Bret was selected as the Face of Diabetes by American Diabetes Association to help promote the Stop Diabetes campaign.
Article continues below advertisement
Bret has had type 1 diabetes since he was six years old and has raised more than $300,000 for the Association.
"It is an honor to once again be working with the American Diabetes Association," Bret said (via hennemusic). "As someone with type 1 diabetes, I know how difficult it can be to live with this disease and how important it is to raise awareness so that we can eventually put a stop to diabetes. I hope everyone will join me in the movement to Stop Diabetes this November."