NEWS
Brian Austin Green to Shake Things Up on 'Desperate Housewives'!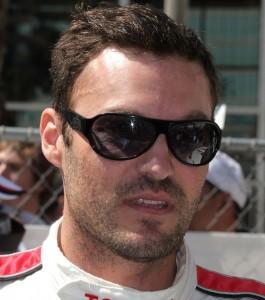 Looks like there is going to be some new eye candy on Wisteria Lane! Brian Austin Green is set to heat things up on the upcoming season of Desperate Housewives. Star Marcia Cross and show creator Marc Cherry dished to reporters today about how Brian will play love interest to Marcia's character Bree this season.
Brian will play a sexy tattooed contractor who sets Bree "atwitter" for one of season seven's big storylines, Marcia revealed to reporters this morning.
Article continues below advertisement
"I'm atwitter, too!" Marcia gushed about her hunky new costar, who recently wed Megan Fox. "He's so comfortable in his own skin and has that sort of out there sexuality. Don't tell him I said that!"
The ABC's show's producer Cherry added, "Brian has a lot of tattoos and agents asked us if we wanted to cover them up and the writers talked about it. We said no, let's leave them. I love the idea of Bree being attracted to someone who's got body art — she's like, what the heck is that?!' "
OK! VIDEO: MEGAN FOX & BRIAN AUSTIN GREEN'S WEDDING PHOTOS
Cherry gave a tune-in alert for Brian fans, saying, "in the second episode, Brian takes his shirt off."
In other news on the hit ABC drama, Cherry said Vanessa Williams' new character is a "frenemy" from the past of Felicity Huffman's character, Lynette, and she's married to an athlete.