NEWS
Bridget Moynahan on 'Blue Bloods': "Tom Selleck Brings in the Babes of All Ages"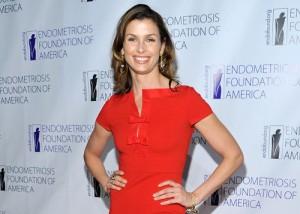 OK! was able to catch up with actress Bridget Moynahan at the Lets Rock Elmo debut in NYC where she was attending on behalf of the charity Baby Buggy. Bridget chatted with OK! exclusively about Baby Buggy, her son's favorite things and Tom Selleck!
OK! NEWS: BRIDGET MOYNAHAN WON'T BASH EX TOM BRADY...JUST KIM KARDASHIAN?
Why is Baby Buggy so important to Bridget?
She told OK!: "What Jessica (Seinfeld) has done and everyone who works at the organization helping to provide products and clothing, the essentials to families in need and the educational services that they kind of combine with it, it's important to help out people in the communities. They're serving six cities right now so hopefully with the donation Playskool has provided they'll not only be able to sustain what they're doing but go and even expand what they're doing."
Article continues below advertisement
She's also trying to instill charity into her son (with ex Tom Brady) John's life. "You know I think we do it a little bit. I wish we did it more. We go through our closets and shelves and do a Spring-cleaning and pull it together and donate that stuff, so as he gets older hopefully we'll be doing more."
What is her son into now? "He's into like jets and missiles and Star Wars."
"He was a huge Elmo fan," she added. "He had the tickle Me Elmo. So I'm excited about this because Elmo has grown. He just doesn't laugh now; Elmo can play instruments and recognize different instruments. His skin is so great, he doesn't age. He's like a musical genius now, which is fantastic. Elmo, not my son."
OK! NEWS: GISELE BUNDCHEN — BRIDGET MOYNAHAN'S BABY IS PERCENT MINE
Besides being a busy mom, Bridget is also working on season two of her hit CBS show Blue Bloods.
"I think we got some kinks out in the first season. It's moving really well, the writing's better, visually it's going to look better. We're having a great time."
And how is it having Tom as her dad?
"Tom Selleck brings in the babes of all ages, I have to tell you," she revealed. "You can be 60, 80, or 16 and still love that man."