NEWS
Bristol Palin Tells Levi Johnston to Get a Job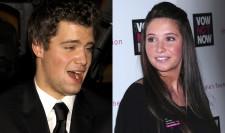 Apparently Levi Johnston doesn't have a lot of money. Who would have guessed that? But Bristol Palin, mother of their son, Tripp, has the solution — get a job!
OK! NEWS: LEVI JOHNSTON: TRIPP LOOKS MORE LIKE ME
Bristol wants Levi to pay $1,750 a month in child support for their 1-year-old son, Tripp, but Levi's attorney Rex Butler characterizes Levi's income in a new court filing as "erratic," E! News reports.
Article continues below advertisement
Butler states that before 2009 Levi was lucky if he made $10,000 in a year. Now his only guaranteed income for 2010 is $25,000 from "some contingencies based on my Playgirl shoot."
OK! NEWS: LEVI JOHNSTON: FOR THEM TO CALL ME DEADBEAT DAD IS ABSURD
Bristol's attorney, Thomas Van Flein, issued a statement saying, "Bristol is hopeful that Levi will obtain work in 2010."
At least she said it politely!
Also, Bristol is "encouraged that he acknowledged in court his obligation to pay child support and that he acknowledged paying $4,400 in the last 14 months."
But, she's willing to help him out.
"Bristol expects to mediate a child visitation schedule with Levi that balances Tripp's need to be with his father with Levi's need to travel and seek work."
So less Tripp time, more work time!
OK! NEWS: BRISTOL PALIN DEMANDS CHILD SUPPORT FROM LEVI JOHNSTON
Levi's attorney responded to the statement to E! News saying, "We are refuting the manner in which they want child support figured."
"But at the same time we're willing to pay," he added. "They said they got $4,400 from him over a 14-month period but it was in the last three months. He'd have more to send over if she just keeps her appointments with him."