NEWS
Britney Spears & Jason Trawick Go Cruising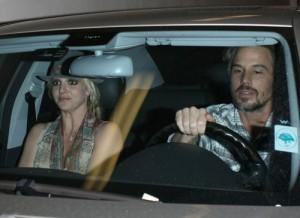 Amid allegations that they're involved in an abusive relationship — stories which have been officially denied by this point — Britney Spears and boyfriend Jason Trawick seemed a bit overwhelmed by photographers as they left his William Morris Endeavor agency offices in Beverly Hills yesterday.
OK! GALLERY: BRITNEY SPEARS LETS IT ALL HANG OUT
Brit's ex-husband of 55 hours, Jason Alexander, gave a magazine interview where he claimed he's still good pals with the pop star, and said she was beaten by her boyfriend. He also gave audio material to a web site, saying it was a conversation between him and Britney about the abuse.
Article continues below advertisement
OK! NEWS: BRITNEY SPEARS' SITE POSTS STATEMENT REGARDING ABUSE STORIES
Britney has slammed the stories in an official statement on her site, where she says she'll be taking legal action. Part of the denial reads: "Every aspect of the story published by Star Magazine is completely and utterly false and Star Magazine was informed of the falsity of this story before it was published."