NEWS
Britney's New Songs Hit the Web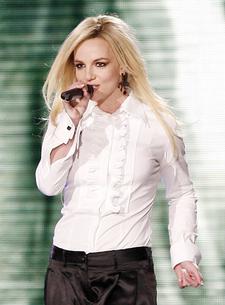 Britney Spears fans have already been rocking out to her new hit single "Womanizer" from the comeback queen's upcoming album, Circus, which is due out on Dec. 2. And now Brit fanatics can get a first listen to even more with a megamix of six tracks on 103.5 KTU.com.
The preview mix starts out with the by now familiar funky beats of "Womanizer," and continues with "Circus," "Out From Under," "Kill the Lights," "If U Seek Amy" and "Unusual You."
Article continues below advertisement
CLICK HERE for OK!'s Ultimate Britney gallery!
The song sampler ranges from surefire club hits, wistful love songs like "Out From Under," and classic Britney pop songs like "Circus" which shows that the old, confident Brit seems to be definitely back on top. One defiant a line from "Circus" declares, "I'm like the ringleader, I call the shots."
Another track, "Kill the Lights," even seems to be aimed at ex-flame Adnan Galib or her relationship with the paparazzi in general, with the lyrics, "Mr. Photographer, I think I'm ready for my close-up, tonight, make sure you catch me from my good side."