NEWS
Brittany Murphy's Autopsy Finds No Illegal Drugs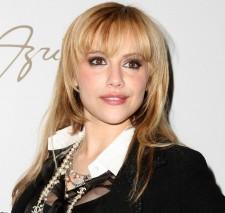 Brittany Murphy's death was ruled an accident and no illegal drugs were found in her system according to her complete autopsy report, released yesterday.
The previous cause of death, community acquired pneumonia and multiple drug intoxication, remained unchanged, reports Access Hollywood.
OK! NEWS: BRITTANY MURPHY FOUNDATION PUT ON HOLD
"Multiple medications were present in the blood, with elevated levels of hydrocodone, acetaminophen, and chlorpheniramine L-methamphetamine was also present," the report stated.
Article continues below advertisement
"It should be noted that the pattern of use of these medications suggest treatment of symptoms of a cold or other respiratory infection.
OK! NEWS: BRITTANY MURPHY'S CAUSE OF DEATH RELEASED
"Acetaminophen and hydrocodone are components of Vicodin. Chlorpheniramine is the active ingredient in some over-the-counter medications. L-methamphetamine is a component of some inhalers."
The report goes on to clarify that L-methamphetamine is not an illegal drug saying, "street methamphetamine is D- methamphetamine: none of this or any other illegal drug was detected. The possible adverse physiological effects of elevated levels of these medications cannot be discounted, especially in her weakened state. Therefore the manner of death is Accident."
OK! VIDEO: BRITTANY MURPHY'S FINAL MOVIE ROLE
The actress, who died aged 32 on December 21, 2009, was also listed as having had an iron deficiency and anemia at her time of death. She was 115 pounds at her time of death.
Brittany's mom Sharon and her husband Simon Monjack previously stated in interviews that drugs had not been the cause of Brittany's death, with Simon telling The Associated Press that a number of the prescription medications found in the couple's home were his.