NEWS
Brittany Snow's 'Maxim' Cover: "I'm So Single. It's Funny."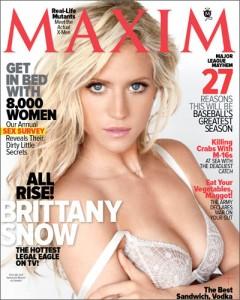 Well hello, Brittany Snow! The new star of Harry's Law is showing off just how much she's grown up from her Hairspray days by taking it off!
OK! NEWS: MICHELLE TRACHTENBERG ON HER SEXY MAXIM SHOOT — I CUT PIZZA DOWN TO ONCE A WEEK
Brittany has grown up and moved past playing a high schooler to playing a legal secretary on the new show Harry's Law.
"Well, I'm excited for people to realize that I'm 25 years old and not a teenager anymore... even though I still look 18 and can't get into a bar to save my life!" Brittany tells Maxim.
Article continues below advertisement
And good news guys, she's single!
"I'm so single. It's funny," she says. "I'm usually a relationship girl. I love being in love and having a partner in crime. But it's good to be your own partner in crime. God, that makes me sound like I have multiple-personality disorder."
"It's funny, because I've never done anything like this before, so the whole experience was a big step for me," Brittany says. "But it was cool. I felt really comfortable and had a great time."
Does Brittany view herself as a sex symbol?
"Oh, hell no! It's weird. I've read in magazines where someone like Jessica Alba says, "I'm not a sex symbol. I don't even think I'm sexy!" I'm like, 'Oh, my God, girl, you're kidding.' I mean I hate to sound like the stereotypical actress, but if I'm gonna be honest… I really don't think I am. But it's nice when other people think so!"
For more of Brittany's interview with Maxim visit Maxim.com and pick up the new issue on newsstands now!