NEWS
Brother Bands Collide! Hanson and the Jonas Brothers Perform at The O Music Awards in NYC!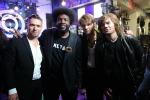 It was brother band mania at the O Music Awards last night in NYC, and Hanson and the Jonas Brothers embraced their striking similarities via social media.
After performing during the 24-hour, live music fest, the two sets of bros met up in the dressing room and posted a hilarious video on Vine. As lovers of all boy bands both past and present, we have to say this video is like a dream come true. No, seriously.
Article continues below advertisement