NEWS
Bruce Jenner and the Kardashians Cover Notorious B.I.G.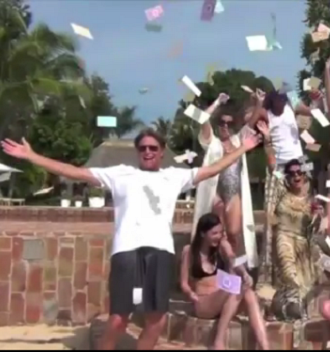 Well, this is sure to annoy some people: the Kardashians prancing around in bikinis, throwing money in the air and laughing (it's just Monopoly money, people). That's essentially what this um, family music video, set to the Notorious B.I.G.'s "Hypnotize," is all about. The video comes to us care of Kendall and Kylie Jenner, who were 1-year-old and not even a thought in anyone's head, respectively, when the song came out in 1996. We love that they can still recognize a classic. The sisters posted this gem to their YouTube channel today.
Article continues below advertisement
"We know we might get some hate, but who cares, we had fun doing it!" they wrote.
OK! NEWS: BRUCE JENNER SAYS HE'S NOT GETTING OUT OF KEEPING UP WITH THE KARDASHIANS ALIVE
The video features much of the fam: Kendall, Kylie, Kris Jenner, Kim Kardashian, Kourtney Kardashian, Scott Disick, and Rob Kardashian, but the very best moments are definitely of Bruce, and we helpfully point them out for you should your interest be piqued, but you don't want to watch the entire 4:26-vid.