NEWS
Bruce Jenner Talks Kim & Reggie Split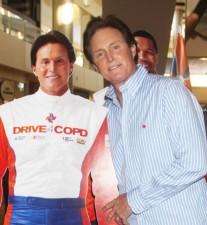 Bruce Jenner opened up about his family today on the Kidd Kraddick Radio Show. The Olympian spoke about seeing his children grow up, what he knows about daughter Kim Kardashian's split with Reggie Bush and his feelings on Scott Disick.
"I am the last to know," Bruce said when asked about Kim and Reggie's break up on the hit radio show. "I try not to pry in what they are doing."
Article continues below advertisement
"You have two successful people and it's not easy," he continued. "I hope for the best. I do talk to them once in a while, but I try not to pry. Kim has been down in Florida helping out with Kourtney and Khloé Take Miami… because Khloé wants to be with Lamar… I read about this stuff in the tabloids. I love Reggie. He is a great guy. I love Kim."
Bruce joked about putting pressure on Reggie to win the Superbowl.
OK! NEWS: BRUCE JENNER SAVES THE DAY AT A NOT-SO-MERRY KARDASHIAN CHRISTMAS PARTY
"I put a lot of pressure at the Superbowl on Reggie, saying that you have to step it up if you want to be in this family. We have an Olympic Gold Medal in the family, and NBA ring, so if you want to be in the family, you have to bring something. So about an hour after the game I was talking to him and he said that he brought the ring and I told him that he was in!"
Article continues below advertisement
While Bruce may really like Reggie and Khloé Kardashian Odom's husband, Laker star Lamar Odom, he definitely has some doubts of Kourtney's partner and baby's father, Scott.
"I still can't figure it out. Again, they are adults. Kourtney is thirty years old now and they have a baby. Mason. Great kid… Scott could leave… Honestly, I wonder about that because I look at him and some of the things that he has done have been so stupid," Bruce expressed.