NEWS
Cameron Diaz Covers 'Maxim' As a Sexy Teacher: "I Love Men More Than Anything"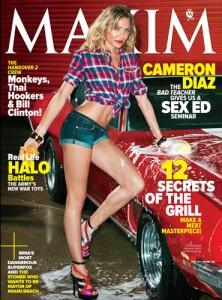 Cameron Diaz is the new queen of daisy dukes. The Bad Teacher star is looking sexy washing a car on the cover of Maxim and is giving all the dirty details of her thoughts on sex, men and marriage.
OK! NEWS: ROSIE HUNTINGTON -WHITELEY REIGNS IN MAXIM'S HOT 100 LIST; KATE MIDDLETON RANKS TOP 30
Cameron hasn't covered Maxim in eight years, but she has done the "sexy teacher" look before!
"Well, it's the first time for a magazine!" Cameron explains. "I think 'sexy teacher' is one of the first on the checklist of fantasy costumes for most guys."
Article continues below advertisement
Another fantasy? Cameron suggests a healthy dose of dry-humping. In Bad Teacher, Cameron shares a dry-humping scene with Justin Timberlake and now she's an expert.
"Well, you have to have the right clothing — you don't want anything rough that causes chafing," she says. "And there has to be a lot of contact. It's a full-body sport, like a wrestling match."
"One should dry-hump as much as possible. It leads to great things," Cameron adds. "I'd prescribe at least once per day. What's also nice about dry-humping is that it can happen anywhere."
OK! VIDEO: CAMERON DIAZ DISHES ON HER LOVE FOR PORN ON JIMMY KIMMEL LIVE
And Cameron has another tip when it comes to relationship for men.
"I love men more than anything. I want all men to be happy and have rad women in their lives," Cameron says. "But guys need women who challenge them and don't let them get away with their shit. Women, conversely, need to not be crazy bitches who blow up when their guys tell them something that scares them."
But it looks like Cameron and Alex Rodriguez are very happy together.
"Yeah, it's really awesome," she says adding she doesn't mind having to watch lots of baseball saying, "Ha, I love baseball!"
But Cameron says she still thinks marriage is a dying institution.
"I think we have to make our own rules," Cameron explains. "I don't think we should live our lives in relationships based off of old traditions that don't suit our world any longer."