NEWS
Cameron Diaz Dishes on Love: "Rules are Meant to be Broken"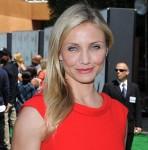 In keeping with Cameron Diaz's new film Shrek Forever After, the actress spoke seriously to Parade magazine about relationships, love and happily ever after.
OK! GALLERY: EDDIE, CAMERON & MIKE MAKE SHREK FOREVER AFTER MEMORIES
"Fiona has always been about 'this is who I am, and I'm not going to change' ever since becoming her true Ogre self. I connected with that spirit from the very beginning because I think that's the way to live," Cameron explained to Parade. "I've definitely always been strong-willed. You have to believe in yourself."
Article continues below advertisement
When it comes to relationships, Cameron has some rules but they can always be broken.
OK! EXCLUSIVE: CAMERON VS. KATE — IT'S WAR!
"I think that the rules in relationships are: no tricks, honesty, communication, treat people the way you want to be treated, unconditional love," she said. "Those are the things that I think are important. But, you know, rules are made to be broken."
Definitely an interesting point when you think of her current relationship with Kate Hudson's former boyfriend, Alex Rodriguez.
Cameron's attitude is to live in moment and it sure seems like she's doing just that!
"I am a romantic. I love romance," the actress admitted. "I'm not afraid of commitment. I commit to everything I'm doing and I am hopelessly loyal. But I hate predicting the future, I really do, because you just don't know. I can't even make up my mind what I'm going to do this weekend."
So, if marriage is in the future for Cameron, she'll be one of the last to know.
"The mystique and the romance of a big wedding are lost on me. I don't think that I could ever do something that extravagant. I am not much of a planner," Cameron explained. "I would probably make the phone call twenty minutes before the bus leaves for the chapel and ask if anyone is available to come. That's probably how my wedding is going to end up."