NEWS
The PhilmGuy Reviews: 'Shrek Forever After'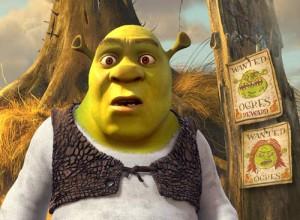 You're at an Italian restaurant and Fresh Ground Pepper guy comes over and asks you if you'd like some. You say yes and he's way over-enthusiastic and gives you more than you wanted. You tell him to stop but he still gives you a little more before he leaves.
That guy is the Shrek series. After the second film. So a fourth Shrek is basically the guy ignoring your request to stop and opening up his pepper grinder to dump it all on your plate.
Article continues below advertisement
OK! GALLERY: EDDIE, CAMERON & MIKE MAKE SHREK FOREVER AFTER MEMORIES
Casting him the stink eye as he walks away to torment the next table, I dug into my metaphorical pepper plate along with my 3-year-old son, who is such a Shrek freak that he demanded my wife make him a Shrek piñata for his birthday party. One of us got bored and wanted to leave halfway through, while the other one was as giddy as an NRA member at a Tea Party.
Yep, I admit it. Shrek 4 almost moved me to tears.
THE PHILMGUY'S DVD REVIEW: DARIA; EDGE OF DARKNESS
I guess the issue is how I'm a sucker for the It's a Wonderful Life motif. Something about watching a character walk through an alternate universe in which he never existed gets to me. The lovable green ogre voiced by Mike Myers has such a screenwriting device befall him when he signs an ill-advised contract with Rumpelstiltskin (Walt Dohrn). The crafty little devil grants Shrek's wish for a daylong break from family life and roam free as a frightening forest beast once again.
Article continues below advertisement
By now the series has emptied its magic bag of fairy tale parody jokes, so it's up to the established characters and plotting to haul the load. Shrek's wife Fiona (Cameron Diaz) and motor-mouthed sidekicks Donkey (Eddie Murphy) and Puss in Boots (Antonio Banderas) fade mostly into the background as Shrek quickly gets over his joy of being free as he roams a world in which he was never born and suffers a dark night of the soul.
The catch is Shrek will fade into nothingness unless he can convince Fiona, who now leads an ogre revolution to overthrow the tyrannical King Rumpelstiltskin, to fall in love with him.
THE PHILMGUY'S DVD REVIEW: DIRTY DANCING; SAVING PRIVATE RYAN
The movie is a steady stream of amusing one-liners and swashbuckling action, but it's the heart that got to me, watching Shrek soften learn to appreciate and long for the life he had but threw away. You can see the ending, and even the fantastically corny final line coming the whole time, but when they finally do they still hit hard.
Article continues below advertisement
THE PHILMGUY'S DVD REVIEW: AVATAR; CRAZY HEART
Luke was looking for more musical interludes and head bonking. Maybe someday he'll watch the movie with his 3-year-old and realize that he wouldn't trade his former freedom for time away from his kid. Not even one day.
Who am I kidding, they'll be watching Shrek 15.
Starring the voices of Mike Myers, Eddie Murphy, Cameron Diaz and Antonio Banderas. Written by Josh Klausner and Darren Lemke. Directed by Mike Mitchell. Rated PG. 93 minutes.
Phil Villarreal's humorous money-saving book, Secrets of a Stingy Scoundrel, is available on Amazon.