NEWS
Camille Grammer Meets Kayte Walsh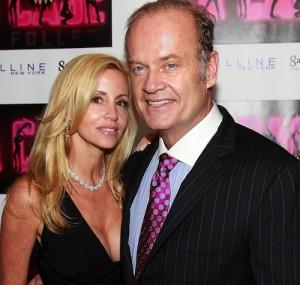 As if hearing the news you're getting divorced isn't bad enough in the middle of filming The Real Housewives of Beverly Hills, Camille Grammer reveals an unexpected twist. Turns out meeting Kelsey Grammer's fiancée Kayte Walsh (a.k.a. "the other woman") in an impromptu exchange yesterday actually wasn't that bad.
OK! NEWS: CAMILLE GRAMMER NOT GRANTING KELSEY GRAMMER A SPEEDY DIVORCE
Camille tells PopEater, "I saw Kelsey today and I met Kayte for the first time. It was a little uncomfortable at first, but then I met her and I shook her hand and I looked into her eyes and I thought, 'She's OK, she's nice.'"
Article continues below advertisement
OK! NEWS: CAMILLE GRAMMER SUGGESTS KELSEY GRAMMER LIKES TO CROSS-DRESS
So, even though a moment of awkardness went pretty well, Camille's putting it aside to focus on their kids' well-being. "It's really important for me and Kelsey to be friends and amicable for our children's sake." She adds, "Because you know, we have to co-parent and that's the correct way to do it."