NEWS
Camille Grammer Sets Record Straight on Ryan Seacrest's Radio Show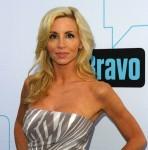 As if seeing your marriage unravel during the very show you're starring in wasn't enough of a low blow, Real Housewives of Beverly Hills star Camille Grammer recently received another hit after she filed for custody. Finding out her ex-husband Kelsey wanted to split up their kids in a custody battle, she took to the airwaves yesterday and dished to Ryan Seacrest.
OK! NEWS: CAMILLE GRAMMER FILES FOR CUSTODY — KELSEY ONLY WANTS SON?
Article continues below advertisement
"It's been a tough couple of weeks," she told On Air with Ryan Seacrest yesterday, as reported by Radar Online. Last week Camille filed for primary custody for Jude and Mason but apparently Kelsey wanted to split them up and have only his son live with him!
Camille confirmed it by stating, "Yes…there was another document released showing it, so there was proof that it was stated." She also added that "it's really important for us to be cordial to one another to raise our children properly."