NEWS
Can You Guess Why Channing Tatum Recently Balled Like a Baby in Front of His Wife?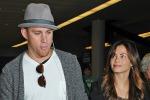 Channing Tatum isn't too macho to admit he cried like a little baby while watching his wife Jenna Dewan-Tatum give birth.
"There's a real reason why God did not give men the ability to have babies, because we would not be able to do it," Channing told Chelsea Handler on Chelsea Lately. "I don't know how women do it. It's a real thing. It's like National Geographic animal-style for real. I don't get it."
Article continues below advertisement
Watch: Channing Tatum Says His Girl Could Beat Kim Kardashian and Kanye West's Girl in a Fight!
"I probably went to the bathroom four times and had a crying fit," he said of the time he spent waiting for Jenna to give birth to their daughter Everly in London on May 31. "Like, I'm just like, I don't know what to do!"
The White House Down star found it especially hard to watch Jenna suffer. "It's like someone's hurting, someone that you love and you can't do anything about it," he said. "You physically cannot help. And I'm still not helping and the baby's out. It doesn't matter. You are useless."