NEWS
Candy Spelling Explains "Final Plea" to Tori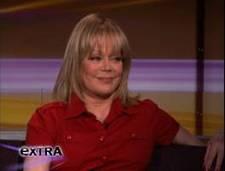 In mid-April, Tori Spelling's mother, Candy Spelling, made the decision to reach out to her estranged daughter. But rather than send a letter or pick up the phone, Candy chose to post an open letter to Tori on her very own Web site. And in a new interview with Extra, she explains the reasons why she felt the need to take her private family matters public.
"She doesn't answer my phone calls. She doesn't answer the emails. She doesn't answer the texts," says Candy, who has a new book, Stories from Candy-Land. "I was really just making one last plea."
Article continues below advertisement
However, when Extra spoke to Tori, she claimed that her mother "has not contacted me. And she's welcome to contact me. Privately." 
For her part, Candy says it's not as easy as it may look to an outsider. "It's not like I can just show up at Tori's house with a plate of cookies at her door," she says. "I don't want to discuss things with her on her show, on tape, with a film crew there."
Candy also pleads ignorance as to what even caused the bad blood in the first place. "I really don't know… There's no answer because she's never replied. I have no way of knowing," she reveals. "I'm just so hoping that some day she'll come around. I certainly would love to make amends with her entire family...To be a grandma to those darling kids and… for her to maybe have my son in her life would be a very nice thing also."
Tune in to check out the entire interview on Extra on Tuesday night!