NEWS
Cannes Permiere of 'Sleeping Beauty' Brings an A-List Crowd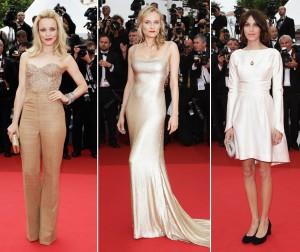 A-list actresses like Rachel McAdams and Diane Kruger lit up the red carpet yesterday at the Cannes Film Festival's premiere of Sleeping Beauty in Cannes, France. Rachel was joined by her man, Michael Sheen, while Diane walked arm-in-arm with her boyfriend, Joshua Jackson, who sported a cool pair of sneakers. Stars of the film Emily Browning and Rachael Blake were joined on the red carpet by film director Julia Leigh.
Article continues below advertisement
The film has been super controversial and is receiving mixed reviews. The Hollywood Reporter describes their feelings of the film by stating " 'You will go to sleep; you will wake up. It will be as if those hours never existed.' That quote from the Australian feature Sleeping Beauty is part of the job description of an emotionally detached young woman who drifts into high-end prostitution involving no actual sex. Regrettably, it could also describe the experience of watching the movie."
The film reportedly had audience members who "marched out" during some of the hard-hitting scenes! Check out the trailer below and let us know what you think!