NEWS
Caroline Manzo Takes Team Teresa?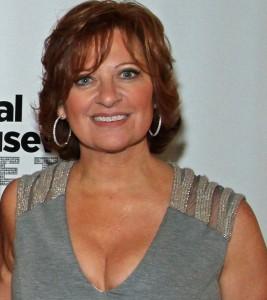 Even though Real Housewives of New Jersey's Jacqueline Laurita tweeted that Teresa Giudice is "scum" Saturday, sister-in-law Caroline Manzo has no hard feelings towards table-toppling the mother of four.
"I don't do feuds," she tells me later that day at the Bravo Presents Real Housewives Live tour stop at Caesars Circus Maximus Theatre in Atlantic City. "It's fine. During filming, we all have our ups and downs, our bad moments. It's a very emotional process. You become like family. You fight, and you love. We're in the middle of a crazy rollercoaster right now, so who the hell knows how it's going to end up?"
Article continues below advertisement
OK! NEWS: JACQUELINE LAURITA & CAROLINE MANZO CUT FROM REAL HOUSEWIVES OF NEW JERSEY?
While it's been reported that Jacqueline is leaving the show, Caroline isn't quite certain.
"I don't know that's true," she says. "We're in the middle of filming the season, and we go through our moods. Only Bravo knows – I don't know."
Caroline and I go way back, and were both judges for the Miss USA Pageant, which took place this summer at Planet Hollywood Resort and Casino in Las Vegas. (She was a telecast judge; I was a preliminary judge.)
VIDEO: REAL HOUSEWIVES OF NEW JERSEY CLIP — GIA SINGS A SAD SONG FOR TERESA GIUDICE & JOE GORGA
She also dismisses rumors that Teresa was asked to do Celebrity Apprentice only because she passed.
"I was never asked," Caroline says. "Actually, they came to our production company, and my executive producer said 'some of you ladies are going to be asked.' When I did Miss USA, I met some producers who said 'we'd like to have a conversation,' but did they ever call me up? Absolutely not."
Article continues below advertisement
She adds, "Do I wish her well? I think it's phenomenal. I think she will be a wonderful addition to the cast, but that is not a true story, and trust me – I would never say otherwise. It's against my character."
Cocktail party time!
Caroline joins fellow Housewives Countess LuAnn De Lesseps, Vicki Gunvalson and Cynthia Bailey for a pre-show gathering, where guests nosh on sweet corn and crab ravioli, Thai spice chicken, tomato and watermelon on a stick, and crab cake, while songs like Lady Gaga's Just Dance play.
And then, it's showtime, where the topic turns to the scandalous Real Housewives of New Jersey.
"There's just crazy all around me," Caroline says. "The table flipping – I was hysterical laughing, when I really shouldn't have been. I couldn't believe what was going on around me, and I'm just terrified before fashion shows. I never know what the hell is going to happen next. For me, every single moment on tape – I'm like 'buckle up.'"
Article continues below advertisement
OK! NEWS: THE REAL HOUSEWIVES LIVE TOUR ANNOUNCES FALL DATES
She admits nothing is staged, but feels Teresa's sister-in-law Melissa Gorga has been inaccurately portrayed. (According to reports, Teresa has said she was a stripper; Melissa claims she worked in a bar.)
"I think she was shot out of a cannon in such a negative way that she had so much catch up work to do," Caroline explains. "We've been here for so long. You've gotten to know us, and whether you love us or hate us. What they did with Melissa was 'bam! Bitch' and that's wrong. She's not a bad person, and I think she is most understood because that's what we all wanted you to believe. She's a good person."
Caroline weighs in about Teresa's family drama.
"I'm one of 11 children," she begins as her mom, dad, daughter and husband watch from the audience. "We fight like crazy, but we love each other to death. It could be a week, a month, a year, an hour, but we make up in the end because love was there. They need to go through it, and they have to understand each other's place in this world and in the family. Once they knock each other's heads around a little bit, they will get it one of these days."