NEWS
Carrie Fisher Took Cocaine Filming 'Empire Strikes Back'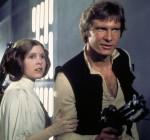 Carrie Fisher has admitted to using cocaine while playing Princess Leia on the set of The Empire Strikes Back's planet of Hoth.
While fans of the early Star Wars movies idolized the warrior princess and her plucky band of rebels as they evaded Darth Vader, Carrie was beginning a drug problem that would take over her life.
OK! NEWS: GEORGE MICHAEL IS RELEASED FROM PRISON
"We did cocaine on the set of Empire, in the ice planet," Carrie told AAP Sydney, about the 1980 movie which also starred Harrison Ford and Mark Hamill.
Article continues below advertisement
"I didn't even like coke that much, it was just a case of getting on whatever train I needed to take to get high."
OK! NEWS: LINDSAY LOHAN DENIED TWITTER IN REHAB
In the same year, Carrie, whose father, Eddie Fisher, recently died, played a crazed ex-girlfriend in The Blues Brothers alongside her then-boyfriend Dan Aykroyd and John Belushi.
Carrie says that John, who was famous for his lifestyle of excess and died from a drug overdose, recognized that the actress had serious substance abuse issues.
OK! NEWS: MADONNA SHARES HER THOUGHTS ON TROUBLED STARLETS
"Hanging out with them didn't help and John actually recognized it in me," she says. "He said to me once, 'You and I, we're alike, we're not like them', referring to his wife and Danny Aykroyd.
"Slowly I realized I was doing a bit more drugs than other people and losing my choice in the matter."
Now 53, a sober Carrie has turned her experiences with addiction into a one-woman show called Wishful Drinking.