NEWS
Carrie Underwood Chooses Wedding City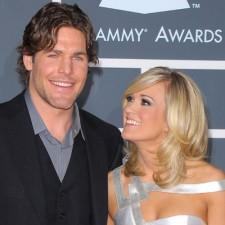 Carrie Underwood has reportedly chosen a location to tie the knot with fiancé Mike Fisher!
A source close to the couple told E! News the couple plan to marry this summer in Nashville.
"They've already picked out the location," the source told E!. "Invites are going out soon."
Carrie did drop a hint during a recent interview with CMT Radio Live, via E!, in which she said that instead of a traditional cake she was going to have IveyCake bakery make cupcakes instead — the bakery is located in Nashville.
Article continues below advertisement
The American Idol alum, 27, announced her engagement to Ottawa Senators player Mike, 29, in December.
Although she is "working on" choosing a designer for her wedding dress, she has a few dream dress details in mind.
"It's really pretty," she told OK! recently. "It's in the very beginning stages, and it's very 'me.' It's girly, it's pretty, it's simple and glamorous."
While Carrie contends Ace — her adorable puppy — will be in the wedding, she's not sure exactly where he'll fit into the bridal party.
"He's my kid," she says. "It would be like if I was getting married and I had a child. Of course, my child would be in the wedding. Of course, Ace is going to be in the wedding. He's such a big part of my life."