NEWS
Carrie Underwood on Whether She's Pregnant: "Oh Gosh, No!"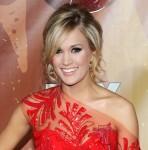 Carrie Underwood is still enjoying being a newlywed with Mike Fisher, but with that comes great responsibility — like constantly updating her fans on whether or not she's pregnant!
OK! GALLERY: THE WINNERS OF THE CMA AWARDS SHINE BRIGHT IN NASHVILLE
"As soon as you get married that happens," Carrie told Detroit radio station WYCD of everyone asking her whether she's pregnant.
"We did the CMT Artists of the Year special, and they had all these celebrity chefs come in from the Food Network ... The food was great, but after the chefs were done they all sat back and had a few. Afterward I got to meet them, and a guy was bombed. He said, 'So did you just have a baby?' I said, 'You do not ever ask a woman if she just had a baby,' " she recalled. "'Do I look like I just had a baby?' ... He got in trouble, and I took his drink away."
Article continues below advertisement
But it had to be asked, is she pregnant right now?
"Oh gosh, no!" Carrie exclaimed.
OK! NEWS: CARRIE UNDERWOOD CALLS MARRIAGE "A LOT LIKE DATING"
But that doesn't mean she isn't excited to have children in the future.
"I know it's possible to be a great mother and to be on the road. You don't have to sacrifice that much," she said. " I see people like Martina McBride do it, and Faith Hill do it. I know it's a possibility. I just maybe need to sit down with them and say, 'How DO you do it?'"
While Carrie's husband's homeland may be Canada, Carrie says the couple will most likely want to raise their children in the south.
"We both love Nashville," she said. "I envision myself living there long after I have kids and long after I'm done singing and all that stuff, just because it's a great place to live ... You can work, you can write, you can record, you can shoot videos and all that stuff, but you can also find land and spread out a bit."
Sounds like she's got it all figured out!