NEWS
Casey Affleck's Lawyer Responds to Sexual Harassment Lawsuit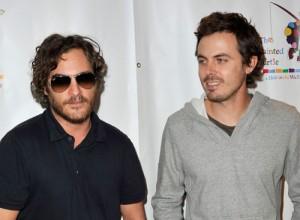 An ex-employee, who worked on director Casey Affleck's new flick I'm Still Here, filed a sexual harassment lawsuit against the actor on Friday.
But, Casey's lawyer claims that producer Amanda White's claims have no merit.
"Ms. White was terminated from the production over a year ago," Michael J. Plonsker revealed to PopEater.
"She and her lawyers believe that this maliciously and erroneously filed complaint will cause the producers to succumb to her outrageous and baseless demands. She is mistaken."
Article continues below advertisement
JOAQUIN PHOENIX MOCKUMENTARY BY CASEY AFFLECK A REALITY
Amanda is requesting $2 million on the grounds of, "unwelcome sexual advances in the workplace," from Casey and for unpaid wages dating back to when she was working on the movie.
The producer claims in her lawsuit, filed at the Los Angeles Superior Court, that the Good Will Hunting star, "became hostile and aggressive" when she wouldn't succumb to his advances and, "violently grabbed her arm in an effort to intimidate her into staying."
IS JOAQUIN WALKING THE INSANITY LINE?
Another allegation from Amanda accuses Ben Affleck's brother of referring to women as "cows."
The 34-year-old's lawyer revealed that Casey plans to file a cross-claim against Amanda.
I'm Still Here is set to portray actor Joaquin Phoenix, Casey's brother-in-law, as he begins to dabble in the music industry.
The Massachusetts native has been married to Joaquin's sister, Summer Phoenix, since 2006.