NEWS
Casey Anthony Offered $1 Million To Appear on 'The Jerry Springer Show'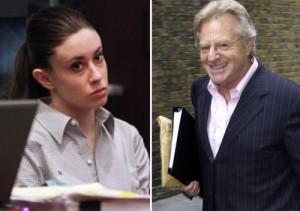 The TV interview offers are already rolling in for Casey Anthony. The 25-year-old was acquitted of first degree murder this week, and one TV personality wants her on his show immediately. Casey has been offered $1 million to appear on The Jerry Springer Show.
Not only does host Jerry Springer want Casey, he also wants her parents Cindy and George Anthony and her brother Lee Anthony, Star magazine reports exclusively via Radar Online.
Article continues below advertisement
The nation was shocked Tuesday when Casey was found not guilty of murdering her two-year-old daughter Caylee Marie Anthony. The controversial verdict has captivated the attention of the country, and Jerry's camp are the first group to make the TV interview offer.
Casey has even been labeled, "The Most Hated Woman in America."
Casey's team of defense lawyers accused her dad George of sexually abusing her and said Caylee's death in the swimming pool was an accident. Because of her molestation, Casey was to scared and intimidated to report her own daughter's death.
The Jerry Springer Show may serve as the perfect stage for Casey's family showdown. Do you think she will accept the offer?
The infamous mom will be released from prison in Orlando, Fla. next Sunday, July 17.