NEWS
Casey Anthony Released From Florida Prison on "Time Served"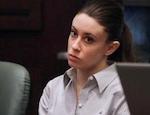 After a long trial and surprising verdict, Casey Anthony is officially a free woman, as new reports reveal that she was released from a Florida prison on Sunday morning after being acquitted on murder charges surrounding the death of her 2-year-old daughter.
After three years behind bars, Casey walked out of the Orange County Jail in Orlando with her lawyer Jose Baez and ample security around 12 AM, TMZ reports.
Article continues below advertisement
OK! NEWS: CASEY ANTHONY WILL NOT TESTIFY IN HER MURDER CASE
On July 5, the jury in the murder trial of Casey's daughter, Caylee Anthony, came back with a "not guilty" decision based on lack of sufficient evidence.
While she was not convicted of murder, Casey was found "guilty" on four other misdemeanor counts, including "providing false information" to the police regarding the disappearance of her daughter and fined $4000.