NEWS
Catching Up With 'Biggest Loser's' Mike Dorsey In Time For Father's Day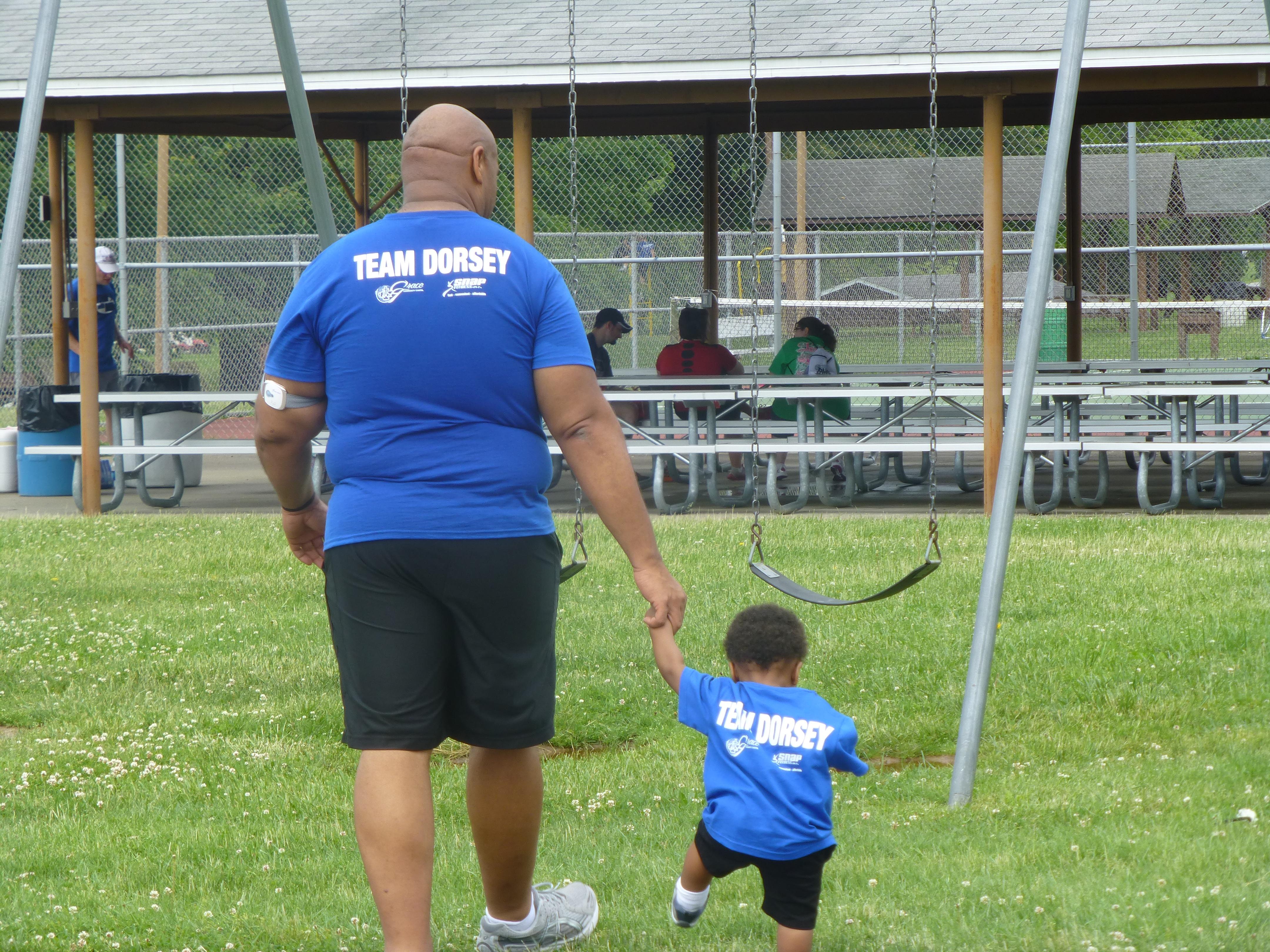 The Biggest Loser contestant Mike Dorsey's personal journey on the show hit home for a lot of viewers as he charged through the 14th season in an effort to lose weight to ensure a long life with his family, including son Little Mike. With Father's Day only a few days away, OK! caught up with the determined dad to find out how things are going post Biggest Loser and how he plans to spend the special holiday.
Article continues below advertisement
Watch: What Did Alison Sweeney Reveal About Jillian Michaels?
OK!: What have you been up to since The Biggest Loser?
Mike Dorsey: I've been getting reacclimated and enjoying my wife and my son a lot. I've had the opportunity to continue on in my fitness. I just recently ran another 5K that was actually held in my honor in Eleanor, West Virginia a couple of weeks ago. And I've been working on my first book about overcoming my one click.
OK! News: Jillian Michaels Shares Realistic Tips For Getting Bikini Ready
OK!: What do you mean by one click?
MD: Since I can remember I've been riding roller coasters. I love them. Once I graduated from college it got to a point where I was getting too big for them. In 2009 at Hershey Park in Pennsylvania I went to get on a ride and at one point there were three people actually trying to fit me onto the ride. I'll never forget this, the attendants saying, "All we need is one click. All we need is one click." They couldn't hear the one click. I remember getting off of that ride and thinking I was one click away from getting what I wanted. I could smell it, taste it, see it, but I couldn't have it. I told a buddy of mine about that story and he was inspired by it. He said, "You know, Mike, I've never struggled with my weight but I think everybody can relate to having that one click that they need to overcome." For me, I've finally been able to hear my one click and I've actually been traveling around the country riding roller coasters and celebrating the fact that it was something I was able to overcome. I'm writing a book about sharing that story and helping other people overcome their one click.
Article continues below advertisement
OK! News: 'Biggest Loser' Star Olivia Ward Opens Up About Fertility Struggle
OK!: What can you do with your son that you couldn't do before?
MD: Well, shoot, the fact that he's a toddler and toddlers go 25,000 miles per hour, I'm able to chase him around the house which has been incredible, being able to be there for him. He was such a little baby when I started the process and now I'm starting to see the benefits so I guess the question is what are the things I'm able to do now that I probably wouldn't have been able to do. I'm looking forward to, in a couple of years, coaching his little league baseball team. He inspired me for the show because right before the casting call for my season I was home alone with him one day and I went to run upstairs to help him from his crib. As I was running up the stairs I got a little dizzy and almost blanked out. When I finally came back to my senses I looked at him and realized if I didn't do anything I probably wouldn't be around too long. Being able to enjoy daddy time with Little Mike has been incredible.
OK!: How are you spending Father's Day this year?
MD: It's Sunday so we'll definitely go to church and we're going to have a family get-together with a family meal and celebrating with my dad as well. That will be nice. And we may even take a quick trip down to Six Flags and go on one of my favorite roller coasters down there.
Here's to hearing that one click, Mike!
Which 'Biggest Loser' contestant's story has touched you the most? Share your favorite in the comments below or tweet @OKMagazine.