NEWS
Catholic League Blasts Nicki Minaj for Grammy Performance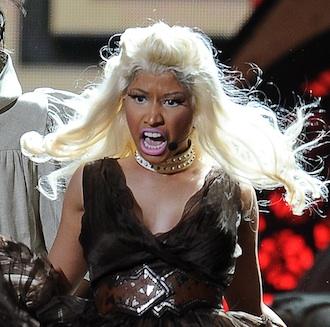 Nicki Minaj's performance at the Grammys on Sunday night certainly seemed very Lady Gaga-ish, but thanks to her head-turning exorcism number, there's one group that isn't exactly pleased with all of the attention. The Catholic League is slamming the star for her performance.
OK! NEWS: NICKI MINAJ GRAMMY PERFORMANCE EXORCISM — CREATIVE PERFORMANCE OR TOO LADY GAGA
After Nicki arrived at the Staples Center in L.A. with a Pope look-a-like, she sang "Roman Holiday" and appeared onstage in a mock confessional while dancers dressed as choir boys pranced around. Per GossipCop, this prompted a statement in which Catholic League President Bill Donohue said, "The most vulgar part was the sexual statement that showed a scantily clad female dancer stretching backwards while an altar boy knelt between her legs in prayer." OK! NEWS: GRAMMY AWARDS 2012 WINNERS — ADELE, CHRIS BROWN, TAYLOR SWIFT & FOO FIGHTERS WALK AWAY WITH STATUES! Plus, they're pretty steamed the performance was pre-approved by producers of the show. The statement continued, "None of this was by accident, and all of it was approved by The Recording Academy, which puts on the Grammys. Whether Minaj is possessed is surely an open question, but what is not in doubt is the irresponsibility of The Recording Academy. Never would they allow an artist to insult Judaism or Islam." Comments aside, it sounds like Nicki has no regrets. Last night she Tweeted, "Were they offended by 'the devil inside'??? Shut-up & watch the movie b**ch!" In another tweet she wrote, "And more importantly, love people for WHO they are. #nohate #nojudgement #nocondemnation" Whose side are you on in all of this? The Catholic League's or Nicki's or somewhere in the middle? Sound off in the comments!
Article continues below advertisement