NEWS
Cee Lo Green Is "Over" Christina Aguilera & Adam Levine's Fights on 'The Voice': "It's Getting Old"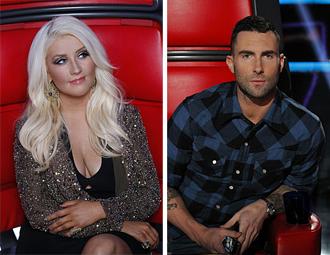 Now that season two of The Voice has come to an end, coach Cee Lo Green is hoping his fellow mentors Christina Aguilera and Adam Levine can put their differences aside and just get along next season. Just like everyone else watching the show, Cee Lo is "over" Christina and Adam's back-and-forth bickering and hopes the two of them can let go of all that tension next year.
OK! met up with Cee Lo last night after Blake Shelton's finalist Jermaine Paul walked away with the title of "The Voice," and the singer opened up about what went down between Christina, Adam and finalist Tony Lucca on Monday night following Tony's performance of Jay-Z's "99 Problems."
Article continues below advertisement
OK! NEWS: JERMAINE PAUL WINS THE VOICE! ARE YOU HAPPY WITH AMERICA'S CHOICE?
"We all caught wind of what the song was going to be and then there was a little bit of internal affairs around not being able to do it. So I wasn't even sure if Tony was going to do it at all," Cee Lo explained to reporters after the finale.
"But it was a higher degree of indifference last night," he added. "I'm being politically correct to say that because I'm not involved. Adam hasn't come to me and spoke to me about it, neither has Christina. But whatever it is, I hope we can get over it because it isn't something we should carry over into a season three."
Although Cee Lo admits that there's a lot of fun and games going on behind the scenes of the show, he also confesses that the tension between his fellow coaches is starting to rain on everyone's parade.
"It's getting a little old and inconvenient to everyone," Cee Lo explained. "When it's fun, it's fun but when it's not, it's disappointing. I don't want disappointment to be associated with this show in any way. I want the integrity of the show intact."
Article continues below advertisement
And Cee Lo might get his way, considering Christina, who was unkind and some say unfair to her former Mouseketeer, Tony, this season, actually apologized to him after the final results.
"She just wanted to clear the air a bit," Tony told OK!. "She just apologized that this became much more a dramatic thing than she ever intended it. There obviously wasn't time to elaborate, but I said to her I hope that we can be cool moving forward. I hate to think that through this whole course that her and I would both suffer on the backside."
OK! NEWS: CHRISTINA AGUILERA & ADAM LEVINE CLASH OVER CONESTANT TONY LUCCA ON THE VOICE
As for how Tony feels about losing to Jermaine and coming in third place last night, he admits that maybe his and Christina's behavior throughout the season caused people to rethink their final decision on who should win.
"Christina's criticism has for the most part inspired me and lead me to a higher plane than I might have found otherwise," Tony said. "I've tried to turn that all into positive and use it for creative inspiration. But obviously you think about it, maybe this is America's way of saying they don't want to reward that sort of petty back and forth kind of thing."
"Bottom line is Jermaine Paul is as real deal as they come and as deserving of this than anyone if not more," he added. " He's really paid his dues. He's phenomenal."
p.p1 {margin: 0.0px 0.0px 14.0px 0.0px; font: 14.0px Helvetica}