NEWS
Christina Aguilera & Adam Levine Clash on 'The Voice'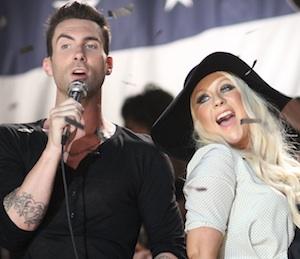 As The Voice gears up to crown its champ during tonight's finale, there's no doubt about last night's spat between Christina Aguilera and Adam Levine.
OK! NEWS: TONY LUCCA GETS HELP FROM ADAM LEVINE ON THE VOICE
Although the spotlight should have been on the four contestants — Tony Lucca, Chris Mann, Juliet Simms and Jermaine Paul — Christina and Adam stole the show with their bickering about Adam's protégé Tony. Okay, it wasn't so much about Tony as the song he sang.
Article continues below advertisement
Tony rocked out to Jay-Z's hit "99 Problems." Well, this song has lyrics that could technically be deemed as inappropriate ("I got 99 problems but a b*tch ain't one"). Christina explained, "Your beautiful wife and your daughter are here tonight and I just thought, you know, the lyrical connotation was a little derogatory toward women, but all in all, it was good fun."
OK! NEWS: THE VOICE FOUR SEMIFINAL CONTESTANTS REVEALED — WHO WILL WIN?
This prompted Adam to retort, "It's called a metaphor...we're not referring to women; we're referring to everything."
No wallflower, Christina added, "If that's how you have to get points..."
Then Adam shot back, "I just want to say, 'I love you, Christina,' but Tony, I thought you did fantastic."
Later on, Tony thanked Adam during the show's "amazing, life-altering experience," though Christina could be spotted texting during his heartfelt speech!
Then, she called her own protégé Chris "a real man who respects women."
Wow! If tonight's finale is any indication of last night's sparks, it will certainly be one to watch. Catch the two-hour finale at NBC at 9 p.m. ET!