NEWS
Celeb-Approved Recipe: Try the Scallops Whitney Port Loves at The Sea Fire Grill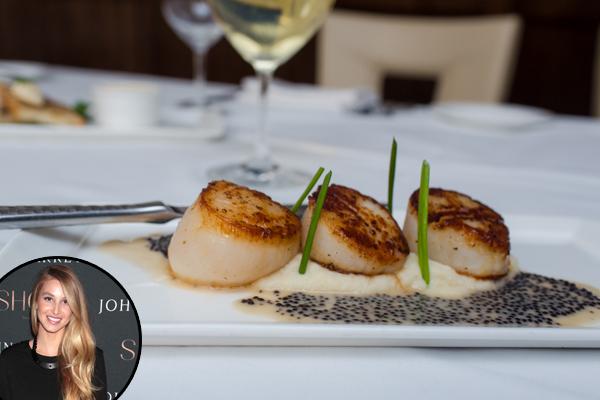 The Sea Fire Grill is a celeb hot spot in NYC that's known for their ah-ma-zing seafood, steaks, and major wine selection, so it's no wonder stars like Whitney Port, Emma Roberts, and Adrienne Bailon have all been spotted dining there. Whit recently ordered the Pan Roasted Scallops and Chef Ted Pryor was nice enough to share his prized recipe with us since 1) we're hungry and 2) please refer to #1. Try them at home and see what else Pryor had to say about the best mac and cheese ingredients and the craziest thing that's ever happened in his kitchen.
Article continues below advertisement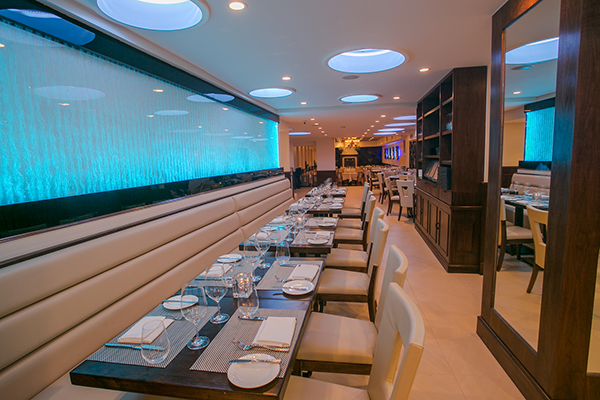 OK!: What's your favorite dish to make on the menu?
Ted Pryor: I'm partial to our Surf and Turf, which has a whole Maine lobster out of the shell and our Prime Filet Mignon—the best of both our worlds!
OK!: Name three ingredients you couldn't live without:
TP: Fresh Herbs, fine olive oil, and good sea salt.
OK!: Dream celeb to cook for?
TP: Grace Kelly
OK!: What's your philosophy behind the cuisine served at The Sea Fire Grill?
TP: Fresh, inspect, and respect. Meaning we only buy the best products, check EVERYTHING as it arrives, and respect how you store it and cook it. Simple.
15 Delish Vegetarian Recipes to Try
OK!: Craziest thing that's ever happened in your kitchen—name it:
TP: One of my early mentors, when highly frustrated, would break plates over this head—thick plates. At least he spared the cooks.
Article continues below advertisement
OK!: What are your suggestions for serving seafood platters in creative ways?
TP: It's really about decoration and sauces. Ask your fish monger for piles of seaweed and welks (snails and shells), and arrange them with lemons, limes, and on and on. Here, less is not always more. For sauces, do a variety from cocktail, to rémoulade, to spiced mayonnaise.
OK!: Lobster mac and cheese is everything in the food world right now—which other fun ingredients would you add to a classic mac?
TP: You can't go wrong with truffles and bacon. Or I go my Mom's way with smoked Tasso ham and goat cheese.
OK!: What would you serve at a dinner party for the 3 people you would love to have dinner with the most?
TP: Teddy Roosevelt, Jack White and Jennifer Lawrence and I would serve Roast Halibut with Caviar Beurre Blanc and Lobster Mac and Cheese!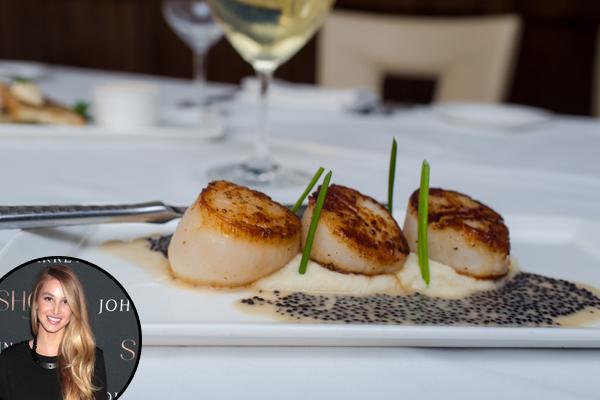 Pan Roasted Scallops Recipe
Ingredients:
1 lb (or 10 scallops) of DRY (untreated) scallops
2 tablespoons olive oil
Salt and pepper
1 knob of celery root, peeled and diced
2 cups of heavy cream
1 pinch of nutmeg
Squeeze of lemon juice
For the Sauce:
1 cup dry white wine
2 shallots, diced
1 bay leaf
½ lb of butter
1 ounce of American Caviar (optional)
Directions:
In a small sauté pan, heat 2 tablespoons of olive oil over high heat.
Add the scallops and sauté for 2 minutes each side. Remove from heat.
Bring the cubed celery root, salt, pepper, and cream to a boil. Reserve ¼ cup.
When the celery root is cooked tender, remove it from the cream and pure it in a food processor, adding ¼ of the hot cream, to make a smooth puree.
In a small sauce pan, reduce the wine, shallots, and bay leaf. When there is 2 tablespoons of wine remaining in the pan, slowly whisk in the cold butter until a sauce that coats the back of a spoon is formed.
Remove from heat. Add salt and pepper to taste and a squeeze of lemon juice. Add caviar if desired.
To arrange the dish, scoop celery root onto a plate, and top with 2 scallops and surround with the butter sauce.

Are you a fan of scallops? Will you try this recipe out at home? Leave a comment below and don't forget to visit The Sea Fire Grill the next time you're in NYC!