NEWS
Celebrities Read Mean Tweets—Jessica Simpson Slammed For Weighing '598 Pounds' Andy Samberg For 'Very Big Nose'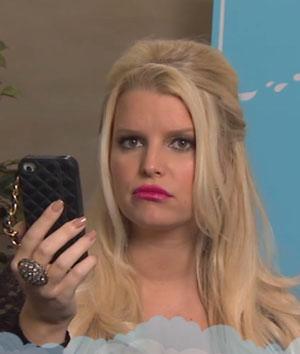 Celebrities have feelings too!
It seems some haters just don't realize celebs are real people—or they simply don't care—tweeting some of the meanest things possible, and OKMagazine.com has a rundown of the nastiest tweets, courtesy of Jimmy Kimmel.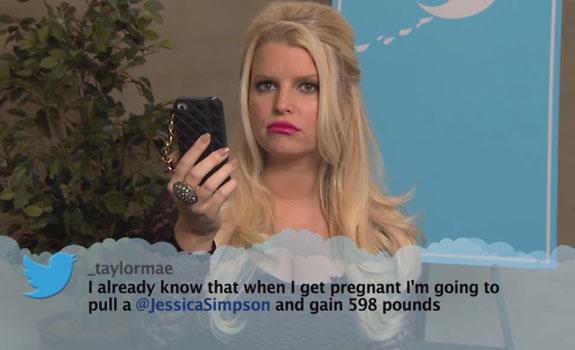 The late night host aired the fourth installment of his "celebrities read mean tweets" segment Thursday night, and there were some real humdingers.
Poor Jessica Simpson took a lot of criticism for gaining weight during her pregnancy with her first child, daughter Maxwell—and, it seems people aren't letting her off the hook anytime soon.
Article continues below advertisement
The 32-year-old, who is currently pregnant again, this time with a little boy, read out a really mean tweet slamming her for weighing "598 pounds" during her pregnancy.
Ouch!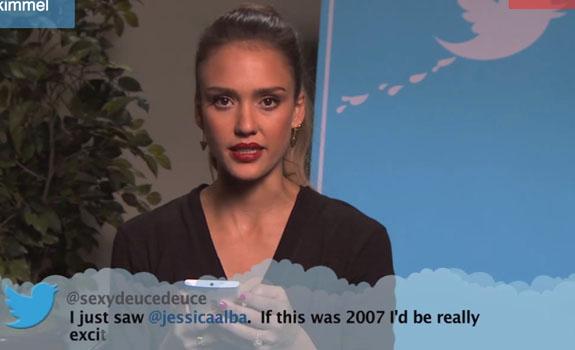 Seems hard to believe anyone could find anything to rip into stunning Jessica Alba about—however one mean spirited tweeter managed to.
The tweet started out innocent enough, "I just saw Jessica Alba." But finished, "If this was 2007 I'd be really excited."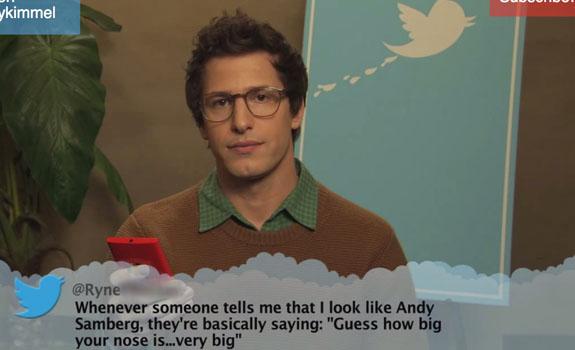 Andy Samberg is a popular fixture on Saturday Night Live, but it seems not everybody is a fan.
One cruel tweeter poked fun at the comedian over his "very big" nose.
Now that's just not nice!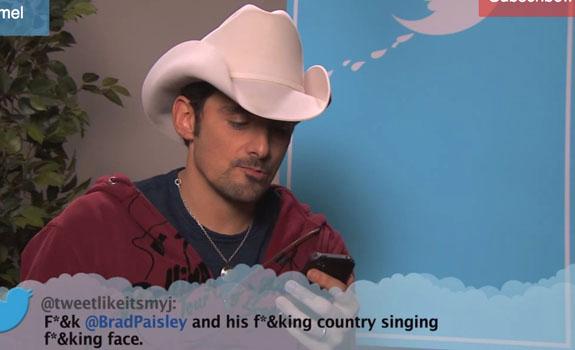 County musicians aren't immune from hating either it appears.
Hunky Brad Paisley read out a paticuarly nasty tweet, criticizing him over his music and his face.
Well, we think you're gorgeous Brad!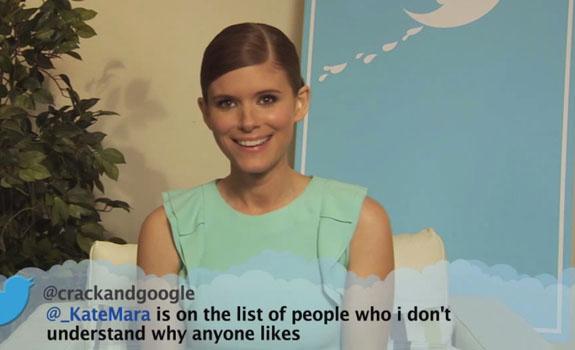 Article continues below advertisement
One tweeter thinks there's plenty, questioning why anyone would like the House of Cards star.
Seriously?!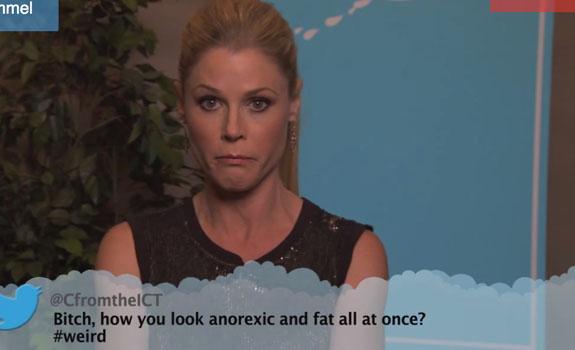 Julie Bowen came under fire for her weight.
Addressing the Modern Family actress as "b*tch" one really nasty Twitter user slammed her for looking "anorexic and fat all at once."
Can anyone say mean?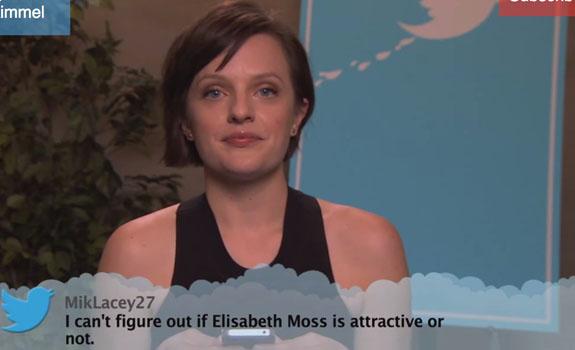 Elisabeth Moss lights up the screen every Sunday on Mad Men—but MikLacey27 seems unable to decide if she's pretty enough for their tastes.
"I can't figure out if Elisabeth Moss is attractive or not" they ponder in their spiteful missive.
The 30-year-old actress says it all with her on-camera reaction.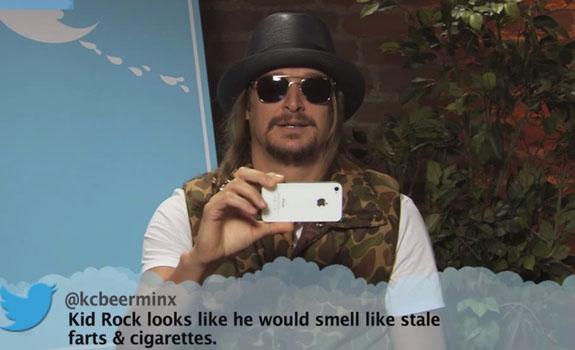 Kid Rock is under fire too.
The larger than life musician is slammed for smelling "like stale farts and cigarettes."
He soon sets the record straight!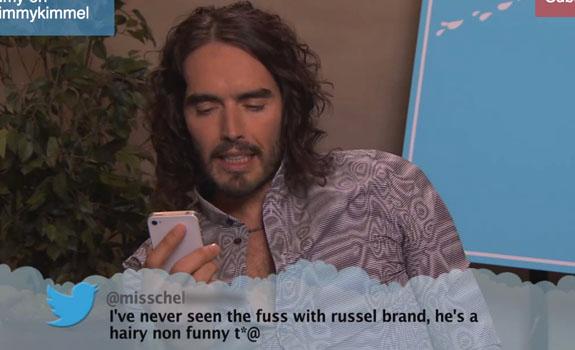 Not everyone thinks Russell Brand is funny!
One twitter user muses, "I've never seen the fuss with Russell Brand" before branding him, "a hairy non funny tw*t."
Article continues below advertisement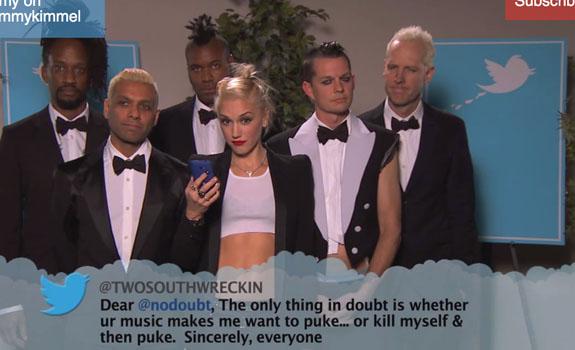 Gwen Stefani reads out a mean tweet aimed at her band, No Doubt.
A Twitter user debates whether their music makes them want to "puke" or "kill myself and puke" signing off, "Sincerely everyone."
Speak for yourself @TWOSOUTHWRECKIN
Somebody isn't a fan of Zach Braff's work!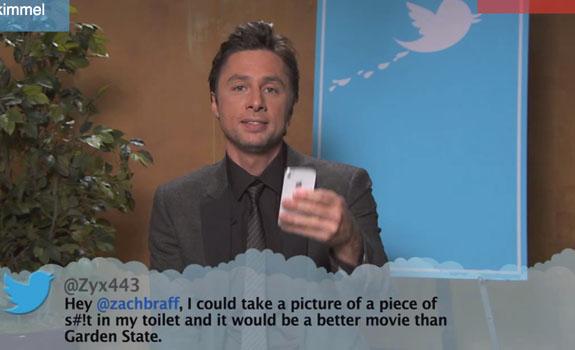 The Scrubs actor is slammed over his 2004 comedy/drama, Garden State—with a tweet from someone claiming they could "take a picture of a piece of s#!t in my toilet and it would be a better movie."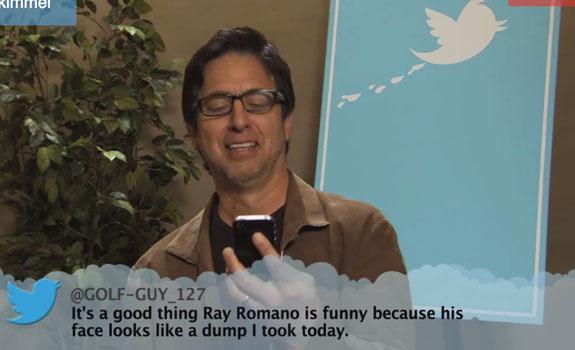 And, last but not least, not Everybody loves Raymond.
Ray Romano is torn apart over his looks, with a tweet about how it's a good thing he's funny "because his face looks like a dump I took today."
Not surprisingly, the 55-year-old gives back as good as get gets.
Check out the video below to watch all the celebrities reading mean tweets.
Do you think it's OK to tweet nasty things to celebrities? Sound off below and tweet us @OKMagazine