NEWS
Celebs Tweet Reactions To Kim Kardashian & Kris Humphries' Divorce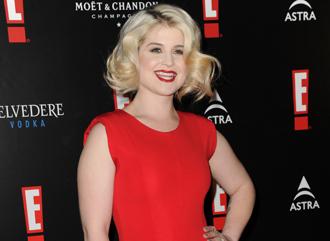 Many couples take 72 days to consider divorce before going through with it, but for Kim Kardashian it seems that 72 days of marriage to Kris Humphries was enough.
The reality star shocked everyone Monday morning when she filed for divorce and celebs were quick to tweet their reactions. But it seems that some were more sympathetic than others...
OK! NEWS: KIM KARDASHIAN CONFIRMS KRIS HUMPHRIES DIVORCE — "NOT AN EASY DECISION"
Article continues below advertisement
Trista Sutter Tweeted her condolences: "Whether u think @KimKardashian & Kris were going 2 grow old together or make today's announcement, the end to a love story is sad in my book"
Also empathizing with the brunette beauty was Kelly Osbourne, who Tweeted:" @KimKardashian thinking of you stay strong don't listen to the haters listen to your heart! xoxo"
Eddie Cibrian's ex, Brandi Glanville, may have sympathized with Kim, but that doesn't mean she was completely devestated by the divorce news: "I'm sorry but I'm so Happy KimK is dropping that tool! She can do waaaaaay better!"
Article continues below advertisement
Lisa Rinna went on a minor Twitter rant, saying "Marry someone because you LOVE them and want to spend the rest of your life with them! not so you can make 72 million and be more famous SAD".
Real Housewives of New York City star Countess LuAnn de Lesseps took the chance to share advice about what to do with the wedding presents the couple received earlier this year: "Def return gifts or donate them to a charity and do some good!"
Others took the opportunity to turn Kim's sad news into a political vehicle for equal rights.
Star Trek legend George Takei Tweeted: "KimKardashian files for divorce after 72 days. Another example of how same-sex marriage is destroying the sanctity of the very institution."
Perez Hilton shared the actors sentiment, Tweeting: "I love @KimKardashian, but as a gay man in America who is treated as a second class citizen when it comes to civil marriage, I am offended!"
Article continues below advertisement
The blogger continued, "Straight people do a damn well good job themselves of ruining the sanctity of marriage! #MarriageForALL"
But even though it is undoubtedly sad that Kim and Kris's marriage is ending, some celebrities managed to find some humor in the situation.
The Roots drummer Questlove Tweeted: "......Wait, Kim Kardashian got married?" before sharing the hashtag "#occupykimkardashian".
Samantha Ronson, who dated Kim's wedding guest Lindsay Lohan, wondered: "Wait, so it was actually a real wedding?"
But in regards to how everyone seems to have something to say about the divorce, Millionaire Matchmaker Patti Stranger warned everyone to think before they Tweet.
"Regarding the @KimKardashian divorce: you don't know what goes on behind closed doors. I'm sure both of them are suffering. Don't judge!" she wrote.