NEWS
The Challenge: Battle Of The Exes' Tyrie Brown Talks Drama With Partner Jasmine Reynaud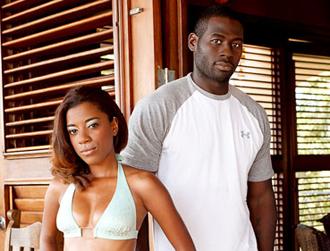 In anticipation of tonight's new episode of MTV's The Challenge: Battle of the Exes, OK! talked to one of the fallen competitors, Tyrie Brown, about his time on the show and the drama with his partner, Jasmine Reynaud.
"A lot of the drama wasn't even my fault. I kind of feel like had my partner come in with a better attitude toward me, me and Jasmine would have literally been the been most boring couple there," Tyrie told OK!.
Article continues below advertisement
Jasmine immediately seemed upset at Tyrie during their run on the show and he commented on that: "Her attitude at the airport toward me was a lot different than her attitude at the house. I think she felt that she needed to be so extreme toward me in order to save face in front of her boyfriend back home or whatever her situation may have been at the time."
OK! NEWS: TEEN MOM 2 PULLS IN HIGHEST RATINGS FOR MTV FRANCHISE
Article continues below advertisement
Tyrie was made to look like he wasn't very liked in the house and he told OK! that was basically an editing thing. "You have to realize they're showing you a certain time and amount of what they want to show. I was cool with everyone in the house. We had laughs and jokes. I have longstanding friendships with Leroy Garrett, C.T. Tamburello, Paula Meronek and I have a good laugh every time I see her. I have the upmost respect and love for her."
You can catch the remaining contestants tonight on The Challenge at 10 p.m. ET on MTV.