NEWS
Channing Tatum Spent Days in a Rainforest to "See How Long I Could Last" with Bear Grylls' Buds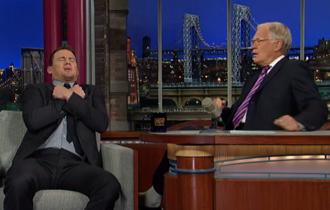 Channing Tatum is known for his crazy group of guy friends — and we're not talking about his male co-stars in Magic Mike!
The actor revealed on The Late Show with David Letterman last night that Man vs. Wild's Bear Grylls hooked up him and his friends and sent them on a trip to the northern part of South America to experience firsthand what it's like to be deserted in a rainforest.
"Me and 10 of my friends went to Guyana, and we decided to go with two Indians out into the rainforest and see how long we could last," Channing told David Letterman, who was shocked that a celebrity would put himself in such danger!
Article continues below advertisement
OK! GALLERY: CHANNING TATUM, MATTHEW MCCONAUGHEY & MATT BOMER AT THE PREMIERE OF MAGIC MIKE IN L.A.
"We were as safe as you can be when there are things that could kill you everywhere," Channing reassured Dave, before adding, "It was truly one of the most beautiful things I've ever done. It really makes you understand how much you do not need on a daily basis."
All Channing and his friends had was a hatchet, some hammocks and the trees. But let's not forget, although they might not have been hanging out with them, there are plenty of wild animals out there in the jungle!
"We saw crocodiles, we thought we saw an anaconda. We actually did a river crossing where we actually saw crocodiles and we had to swim across the river," Channing admitted, "Stupid, right?"
Dave couldn't agree more.
"You think it's going to be quiet and beautiful because you're so far out in the middle of nowhere, but it's the loudest place. It's louder than New York," Channing said. "You have howler monkeys that are like 'Ahh!' and you're curled up in your hammock like, 'oh, my God; this is scary.' "