NEWS
Channing Tatum on Guys Night Out: "Whenever the Ladies Go Out of Town, It's Go Time!"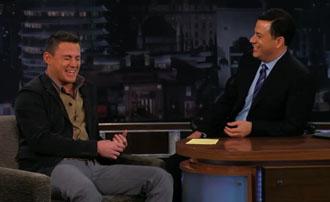 Article continues below advertisement
"You know how guys do," Channing admitted on Jimmy Kimmel Live. "When there's no women around, no supervision, it can just go way off the rails real fast."
The actor, confessed that "whenever the ladies go out of town, it's go time" — ladies including his wife, Jenna Dewan. The heartthrob and his best guy friends, "four white guys and a Puerto Rican," as he refers to them, enjoy some wild nights out.
MORE ON:
Jimmy Kimmel Live
Article continues below advertisement
And these little men adventures won't be slowing down anytime soon. Channing confessed to Jimmy that he is opening a bar in New Orleans, where he and Jonah shot 21 Jump Street.
"I know it's a horrible idea," Channing laughed, "but we signed the lease!"
"Do you have any bar experience?" a concerned, but entertained, Jimmy asked.
"No, No!" Channing yelled. "Patron of the bar, yes. I know how it should work. I know that they should pour alcohol in the glasses and give it to people!" Uh, oh.
Check out part of Channing's interview with Jimmy below!