NEWS
Charlie Bewley on Rob & Kristen: "I Can't Stand Them Always Locked in Their Rooms"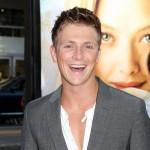 Charlie Bewley, Twilight Saga's Demetri, showed up to the Letters to Juliet premiere in Hollywood on Tuesday. Being a love story, Charlie chatted with reporters about what Twilight taught him about love, the love he felt on set and his thoughts on Robert Pattinson and Kristen Stewart.
OK! GALLERY: LOVE IS IN THE AIR AT LETTERS TO JULIET PREMIERE
What did Charlie learn from Twilight about love?
"Are you asking me if I hooked up with any of my castmates?," he laughed to reporters. "Love stinks! It will come along some other time. I am just not waiting for it now!"
Article continues below advertisement
But his attitude towards love didn't effect his experience in New Moon.
"It was great," Charlie told OK!. "I love being in Italy. We were treated so decadently when we were there."
OK! COVER STORY: ROB TELLS OPRAH — KRISTEN'S PREGNANT!
He didn't even mind the screaming fans!
"I think I embraced it really and they weren't in the 'I want to rip your clothes off and your skin' stage with me yet," he explained to OK!.